Aerospace giant Boeing unveiled its bid for the US Navy's Broad Area Maritime Surveillance (BAMS) programme at the Paris Air Show yesterday.
BAMS is a technologically ambitious scheme, under which the USN wants to procure advanced ocean-patrolling drone aircraft. This role was formerly performed by the venerable P-3 Orion turboprop, but the P-3 fleet is wearing out fast. It will be succeeded by the new P-8 Poseidon, a Boeing 737 full of advanced gear. But the navy doesn't have the money to fully replace its Orions with Poseidons, so it hopes to bulk out its future ocean-patrol air fleet with BAMS robo-craft.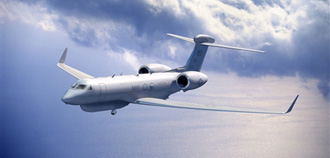 The proposed BAMS Gulfstream 550. Pilot strictly optional.
Proposals were submitted last month, and rival aerospace contender Northrop Grumman has already publicised its offering, based around the existing RQ-4 "Global Hawk" drone.
Boeing entered the fray at the same time, but has only today made details of its plan public. The scheme involves the use of "optionally manned" Gulfstream 550 business jets modified to suit the BAMS requirements.
The idea is that mission specialists could ride in the plane for shorter or more complex missions. Alternatively, however, the planes can operate on their own, flying themselves autonomously and datalinking their sensors into the US military net.
Human pilots could be useful too, for instance on routine trips through regulated airspace. Pilots might easily fly without any specialists in the back, of course, as occurs in ordinary military aircraft now and then. Time out of mind, pilots have tended to make unflattering remarks about the necessity/personal merits of back-seaters as a result.
(Anyone remember the character "JAFO," from Blue Thunder? Just Another F#cking Observer. And Goose in Top Gun was scarcely the alpha stud.)
Uniquely, however, the BAMS Gulfstreams could theoretically fly missions with backseaters but no pilots, saving on sensor bandwidth and expensively trained stick-jockeys. Boeing has said that last will not be an option, but presumably more as a matter of human psychology rather than for any technical reason.
Award of a Navy contract for initial development and demonstrators is expected in October. ®