Pentagon's raygun-packing 747 to visit DC
Jumbo wants pork
---
The Airborne Laser, the US Missile Defence programme's raygun-equipped jumbo jet, is to visit Washington tonight in an attempt to drum up support on Capitol Hill.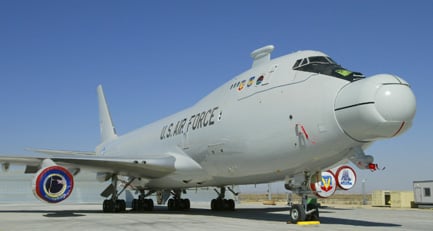 The Airborne Laser aircraft, intended to explode ICBMs shortly after liftoff.
The Missile Defence Agency says (pdf) the flying energy-weapon platform will fly into Andrews airforce base outside DC from its normal home at Edwards AFB in California. The 747 is expected to make a night landing, before being shown off to politicos, officials, and the media. It will return to the west coast on 21 June.
The Airborne Laser is a modified Boeing 747-400 freighter aircraft intended to use a Chemical Oxygen Iodine Laser (COIL) to destroy a hostile ballistic missile during the highly-vulnerable "boost phase" of its trajectory — the first few minutes after it is launched.
Missiles in boost are full of pressurised explosive fuel, so even a relatively feeble zapping could cause them to explode. Also, attacking a multiple-warhead ICBM at this point will take out all its re-entry vehicles in one shot.
The idea is that the 747's advanced tracking lasers will first locate the target missile before the "primary directed energy weapon" fires up. According to the Missile Defence Agency (MDA), "the chemical laser has had more than 70 successful firings over the past three years, and will be installed aboard the aircraft later this year in preparation for the first shootdown of a ballistic missile target in mid-2009."
Before that happens, however, the missile defence lads need a whole lot of cash to keep the project going - hence the visit to Washington. Democrats in DC have tended to see the jumbo-blaster as risky business at best, foolish sci-fi-in-the-sky at worst, and have previously exhorted the MDA to focus on shorter-term, more basic missile-busting gear. Congress recently lopped 45 per cent off an airborne laser funding request, and the Senate will be looking at defence cash soon.
The Airborne Laser may need to put on a good show tomorrow if it's to make that 2009 deadline. ®