Nvidia has made its pitch for the hearts, minds and wallets of scientists and engineers with its first line of graphics chips designed not for games but for high-level number crunching: the so-called GPGPU - General Purpose Graphics Processing Unit.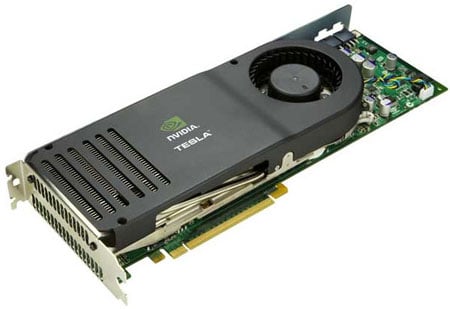 Nvidia's Tesla C870: GeForce 8800 by any other name
The product line's called Tesla and comprises PCI Express add-on cards, which look a lot like GeForce 8800 boards; a standalone two-GPU processing system that's eerily reminiscent of Nvidia's Quadro Plex box; and a four-GPU 1U rackable system.
So, yes, it's partly a rebranding exercise, albeit with some tweaks. The Tesla C870 PCIe card, for example, has no video ports. Designed for desktops, it's a two-slot card fed by two external power leads to provide the 170W it needs when running flat out.
Nvidia claimed it can run 518 billion floating-point operations every second.
The card has 1.5GB of GDDR 3 memory on board connected across a 384-bit memory bus with a total memory bandwidth of 76.8GBps, so the memory is clearly clocked below the 86.4GBps GeForce 8800 GTX's own memory. Nvidia didn't say to what frequency the card's GPU is clocked.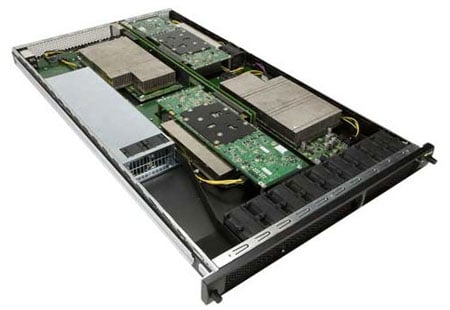 Nvidia's S870: number-cruncher for racks
The Tesla S870 GPU Computing Server is the 1U rack unit. It squeezes in four GPUs on separate C870 cards, each of which has 1.5GB of GDDR 3 graphics memory and delivers the 518Gflops. The box consumes around 550W, rising to 800W when it's running flat out.
The Tesla D870 Deskside Supercomputer has two GPUs on board, again with 1.5GB of GDDR 3 each. Like the S870, it connects to a host computer via an x8 or x16 PCIe adaptor card. Alternatively, the S870 can be driven by two adaptor cards, each connecting to two of the on-board GPUs.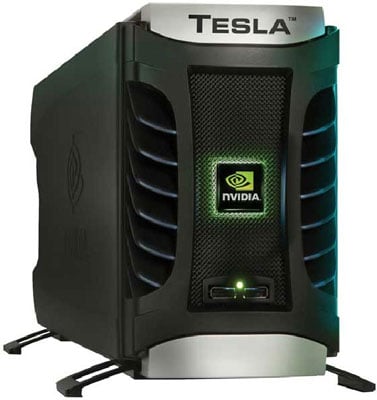 Nvidia's D870: supercomputer-in-a-box?
All three products require connection to a Windows XP or Linux host, though if you want to work in a 64-bit environment, you'll need to run the open source OS - for now, it's 32-bit XP only.
The Tesla kit leverages the Cuda GPGPU software Nvidia introduced back in November 2006, it's first foray against what was then ATI's Stream technology but is now belongs to AMD.
The C870 is priced at $1499, the D870 at $7500 and the S870 at $12,000.