Sony NAS-50HDE Gigajuke audio system
If stereos were Stetsons, this would be a ten gallon hat
Review Of late, the compact Hi-Fi system has struggled to find a place in the affections of consumers keener on more sophisticated home cinema audio rigs. However, the technology that looked like it was about to drive the last nail into the compact Hi-Fi coffin is set to breath new life into the format as products like the Gigajuke deliver the playback quality of a Hi-Fi combined with the storage capacity of a hard drive.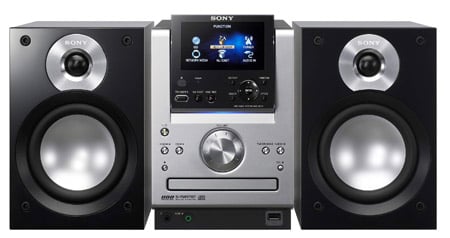 At first glance, this system looks like an ordinary mid-priced second-room audio product, fit perhaps for an uneventful life of infrequent use in a bedroom or study. But on closer inspection, this little machine deserves much more attention, due to its good looks, good sounds and big brain.
The Gigajuke possesses an 80GB hard drive, which drags the compact Hi-Fi system into the 21st Century, not kicking and screaming, but like it had never been away. Music storage, manipulation and controllability are no longer dominated by the portable and music-server sectors. The genie is out of the bottle and this type of functionality is open to all product categories.
However, we have to start with the basics. If a system like this fell down on the playback and more basic functions, its flashier abilities would all come to nought. Putting a CD into the front-loading deck delivers a confident attack-minded playback, which defies the machine's diminutive dimensions. On the first few plays, there was plenty of width and height to the sound which made us think that perhaps the unit, and in particular its speakers, could handle a sterner test.
Half a brand new Megadeth CD later and we were not disappointed. There is real punch to the sound of the Gigajuke and enough agility to handle the most complex guitar solos and drum breaks. But the really nice thing here is that the system doesn't sound like it is trying too hard, and the treble and bass are mixed together to reproduce a realistic feeling sound. Happily, playback is not just all about attack and big sounds, in a particularly adventurous afternoon at Register Hardware Towers we tried some Steeleye Span - a folk music band from the 1970s that's actually illegal in some countries.
However, what the band's music does do, with its very eclectic mix of vocals and traditional instruments, is find out whether a system is all shout and has no subtlety. The Gigajuke came through this toughest of tests with flying colours. Sony's S-Master Digital amplification technology, seen mostly on its 'proper Hi-Fi' products, lends a big helping hand here, allowing the machine to present enough big notes mixed with the more subtle sounds to make straightforward playback an enjoyable and engaging experience.