This article is more than 1 year old
Sony NAS-50HDE Gigajuke audio system
If stereos were Stetsons, this would be a ten gallon hat
For those that want to delve deeper into the way the unit records there is also the option to decide what format the unit records in. The Gigajuke can record in Linear PCM, which involves no compression of data so playback is up there with CD quality. The unit can also record in Sony's own ATRAC3 or ATRAC3plus compressed formats. Then, of course, there's good old MP3.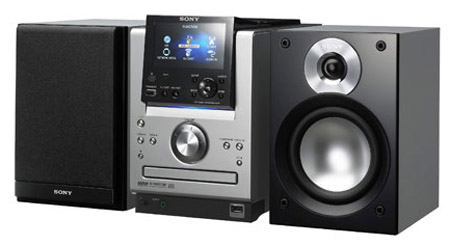 However, Sony has gone that bit further with the product and incorporated some functions you might not expect. The X-DJ function at first sounds like one of those clunky database search systems that you just know you will never use. But on closer inspection this does have some interesting and useful abilities. Tracks can be sorted into 23 three separate "channels" that contain music of a certain mood. Channels include "good morning" for those early starts and "party time" for... well... party time. It's also possible to do searches while a song is playing. For instance, you can search for all the songs on the hard drive by the artist who's being played, and the Gigajuke will place them all in a playlist.
A nice but quirky function that we found particularly interesting was to compile all the tracks released in a certain year, perfect for retro evenings or just a trip down Amnesia Lane.
The unit has an easy-to-programme timer, which allows the recording of radio shows. We've not always been totally convinced on the amount of use you might get out of a function like this - radio is an immediate medium and tends to be at its best when enjoyed live. However, with the spread of DAB, there are enough programmes of interest out there to warrant getting used to playing around with this function, particularly as the unit can (slowly) download any content from its hard drive to a portable player so you can enjoy radio shows, on anything else for that matter, on the move.
Verdict
There are many more features to the Gigajuke than can be covered here, which for a sub-£500 product is pretty impressive. What Sony has really got right here is providing a machine that genuinely releases the potential of your music collection, but has done it in a system that's easy to use and has good quality sound, so often a dirty word at the more modest price points of the digital music world.

Sony NAS-50HDE Gigajuke audio system
The Gigajuke takes the hazard out of choosing an up-to-date Hi-Fi
Price:
£499/€737/$989 RRP