This article is more than 1 year old
Yahoo!'s pink liberation army a threat to America's youth
I'm not gay. Thanks for not asking
And Ninthly Stunted by the eclipse of justice, Little Johnny Walker made his way over to the piano. He played a sad tune. One full of preambles, bees and summer vegetables. It made the women of the night cry, and the men of strong moral fiber tense. Jesus breathed easier that night. We all did. A Butter Dish for Beelzebub by Julio Stantore
Being gay seemed to help a stern Martina Navratilova beat up on prissy Chrissy Evert. It also seems to have helped Tom Cruise bag a pair of beautiful babes. But I'm not sure that full, frontal flaming will help Yahoo! solve Google.
You see, Yahoo! has morphed into a sort of homosexual honey pot.
For example, the portal - how old fashioned - this week informed users that someone named Perez Hilton - a chipper chap with pink hair - wondered if "closeted celebrities have a right to privacy?" The query appeared as part of the Yahoo! Asks section that often pops up near the top of yahoo.com.
In all honesty, I had no idea how to answer this question, since I didn't even understand it. Were other celebrities suffering from the same "trapped in a closet" syndrome as R. Kelly? Have closets become the new hideaway for the jet set?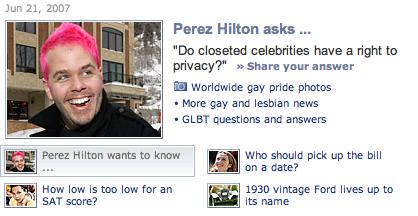 The Perez Honey Pot
As it turns out - and you'll want to pay attention here - coming out of the closet refers to revealing that you're full of gaiety. Sweet Jesus, did Yahoo ever make that clear, as I clicked to find out what Hilton thinks about the matter. I discovered links to Flickr photo sets documenting gay pride festivals, a gay club mix from Yahoo! music, gay clothes for my gay avatar, a gay personals section and gay non-profits that I can donate to. You know, if I wanted to go to hell.
Maybe I'm being bombarded with this gayness because I happen to live in the gay bunker section of Nevada. It's an unfortunate turn of events. But, look, I was here first.
So, is my gay IP address responsible for this mess? Are people in North Carolina getting questions about tobacco and cars? Do they have steel chartrooms to turn to and itinerant farmers to socially network with?
I'm thinking not and here's why.