Mugwort buys the furniture - Fytte 6...
Why make developers comfortable? We pay them enough for them to put up with anything.
---
Mugwort has been getting less and less favoured by the iteration. However, there is hope following an isolated period of success for the young demon. Several key members of his victim's development team have left and, due to inadequate training, this means that Mugwort's intended victim, our young project manager, has struggled to keep the existing project on track.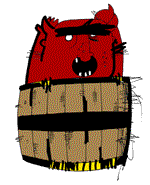 The project manager has been tasked with relocating his stakeholders, sorry - worthless underlings - to a new office environment. An ideal opportunity for Screwpole to convince his nephew to press home the advantage…

To: Mugwort
From: Uncle Screwpole
Subject: Sun Tzu's The Art of Feng Shui

Ahh Mugwort,
The office move – what an excellent opportunity. And I believe you're in charge of mentoring our unsuspecting victim. The disastrous implementation of his training regime has caused many of his peons to leave for greener pastures, and left the project manager in a weakened and confused state. When advising him, remember these goals: limit productivity, increase staff turnover, and stifle recruitment. A poor work environment can achieve all three!
Cutting costs is the single most effective way to undermine an efficient, productive and fair office environment. Your manager, in his obsession with all things new and modern, will likely have lofty ideas for his new office. Your opening gambit, then, is to point out the '10% rule': if he saves £1, this is equivalent to a £10 sale. He will be unaware that this can be a false economy – even small savings, if not judged correctly, can have hugely detrimental effects on staff morale and productivity.
Once you've started pound signs spinning in your manager's eyes, it's time to get down to the dirty business of actually designing your new office. There's currently a belief that the pathetic, fleshy bodies of humans require much care and attention. This is ridiculous – just look at our superb sweat shops. Endless rows of people stitching designer handbags for 18 hours a day, six days a week. Do they complain? No, because if they do, they get sacked. Humans will put up with a great deal of punishment if they think there is no choice.
There are three primary factors to consider when arranging an office: physical needs, communication needs, and social needs.
The IT equivalent of the sweat shop is our call centre model of office design, successfully implemented several years ago. Study this and you will find that a number of our call centre demons manage to allocate just 85 square feet of office space per employee. I'm sure you can better this.
For your development team, the significant features of their 'personal' areas are, in order of importance: chair, computer, and desk. The office chair is paramount to employee comfort and health – it's what they will spend most of their time in. The more strong-willed office managers recognise this and have at least one trained posture expert on the team, who is dedicated to sourcing the best chairs for individual needs.
This is all poppycock, of course. The team should sit on upturned wicker baskets if your manager tells them to. Get the worst chairs you possibly can [Perhaps ones that induce painful muscle spasms – a hearty laugh at your violently contorting employees is a good way to start the day].
The PCs you choose will ultimately dictate the speed at which your developers can work and therefore their productivity and stress levels. Understand the edit-compile-debug process and make sure you procure desktops that run slower than people's short-term memory, thus causing them to forget what they're doing.