This article is more than 1 year old
Seagate joins 1TB HDD battlefield
Right click —> save-as this story. You've got the room
Seagate is releasing a big fish into its Barracuda product stream, with the company's first foray into the 1TB disk drive market.
The 1TB drive comes in two flavors; business and pleasure — identical cousins, yet different as night and day.
Indeed, if Seagate's new ES.2 disk drive for enterprise were to be played by popular 1960s sitcom actor Patty Duke, one would notice it adores a minuet, The Ballet Russes, and crepe suzette. On the contrary, the 7200.11 for the PC loves to rock and roll. A hot dog makes it lose control.
This wild duet matches Hitachi's 1TB offering, which was first to hit the consumer market in the first quarter and Samsung's drive that was quick to follow.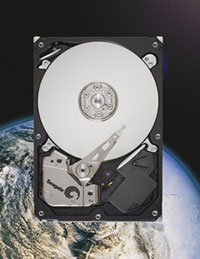 Barracuda drive in geostationary orbit.
The Barracuda 7200.11 is a 3.5in ATA (SATA) II disk, spinning at 7,200rpm. The disk caches up to 32MB and has a sustained data rate of 105MB/s. The drive holds 500GB, 750GB or 1TB of data. The 1TB packs four 250GB platters using Seagate's 2nd generation of perpendicular recording technology.
Seagate's Barracuda ES.2 is targeted for business secondary storage and archive. The disk has an greater mean time before failure than its PC-friendly cousin; at 1.2 million hours compared to 1 million hours in the 7200.11.
The ES.2 comes in 250GB, 500GB, 750GB and 1TB versions. The drive has both a SATA and SAS interface. It also includes some power-saving technology that Seagate says will deliver a 20 per cent reduction in overall drive power consumed.
The Barracuda 7200.11 and ES.2 will begin shipping during the third quarter. The 1TB 7200.11 will go for $399.99 and the ES.2 has yet to receive a price tag. ®