Odin and Halla
The deal announced in early 2000 with Motorola was wide ranging. Not only would the two jointly develop a range of pen-based smartphones under the umbrella name "Odin", with the first of which scheduled to hit the market in mid-2001, they'd use an entirely new silicon architecture developed by Psion, a young Irish semiconductor company called Parthus, and Samsung. The "Halla" chip (officially known as InfoStream) would be the first ARM9 based processor, and was packed with multimedia features. In an extensive cross-licensing deal, Motorola would have first dibs on the resulting silicon.
According to Gretton, and his account is corroborated by others, much of Psion management and almost all the Psion staff, strongly opposed the deal.
"I was deeply against the Motorola contract — for me it was the final nail in the coffin," he says.
In addition to funding the burgeoning Symbian operation, Psion was now officially in the semiconductor business. So overnight, it placed itself in competition with two of the largest and fastest-growing companies on the planet. From duking it out with unproven newcomer Palm and Casio's handheld division, Psion was now set head on against Nokia and Ericsson on one side, and Texas Instruments and other chip manufacturers on the other. An even more dangerous enemy existed in its new partner's camp: Motorola had its own semiconductor division and began moving at once to kill the Psion deal.
Fear of competition is often cited by former staff as a Psion characteristic. But for an insane moment, Psion appeared to stand on the table and want to fight everybody in the pub.
The relationship with Ericsson deteriorated. Ericsson had long nurtured the idea of a pen-based smartphone, and was the first phone vendor to ship an Epoc device in 2000. The Swedish giant cancelled Psion's contract as its preferred PDA supplier. Ericsson had rebranded the Psion 5MX, with some additional phone-friendly software, as the MC218. The next stage would have seen Ericsson rebadge Psion's Revo. The cancellation of the deal was costly for Psion.
Odin brought a fresh set of anxieties. Psion management was paralysed as the prospect of the scale of the battle it had bought into, and fatalism set in.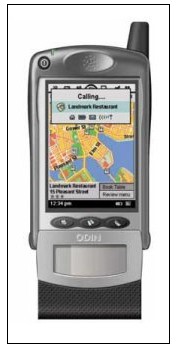 "There was a feeling of 'what's the point?' Nokia's going to kill us anyway," says Gretton in an view echoed by many executives at the time. "Which was totally self-fulfilling and which I don't subscribe to, then or now."
He points out that Nokia has yet to master enterprise IT channel sales even today. By the time of Odin, Psion had amassed 15 years' experience selling handhelds as part of an IT infrastructure sale. He regarded the Motorola deal as one backstab away from termination — and in January 2001, his worst fears were confirmed.
"I was in Germany…when Margaret Rice-Jones took the call from Motorola — and her face went white. She told me Motorola had cancelled Odin, and that we were on our own," he recalls.
"I knew that was the end of our business. We had no other roadmap."
As a cathartic gesture, Psion staff made a bonfire of their Motorola mobile phones.
Nevertheless, the product pipeline was at last full, and would give a long-overdue lift to Psion's PDA business. A colour Bluetooth Revo and a cost-reduced model were in an advanced stage: a TV documentary filmed Psion's marketing team auditioning advertising agencies for the launch.
(One of the agencies, clearly having failed to read the brief, hilariously proposed to market the new Revo as a "one box solution").
However Levin had no intention to pursue this option. He moved quickly to abandon the Psion Computer moniker, moving the staff to the more ambiguously named Psion Digital.
A statement issued on 11 July 2001 read:
"The decision to implement a significant restructuring of Psion Digital has been driven by the division's continuing poor performance in weak and oversupplied markets for handheld computers and related cellular phone markets. Further commoditisation of these markets is expected next year. As a result of the Board's decision and in the light of slower than anticipated establishment of a mass market for Bluetooth products, Psion Digital will not launch its Bluetooth PDA or range of Bluetooth connectivity products planned for the second half of 2001.
David Potter is quoted:
"The IT industry is experiencing its worst downturn since 1985. Against this background, it is essential that we take the hardest approach to costs, control and a return to profitability while avoiding exposure to oversupplied commodity markets. The enterprise markets of Psion Teklogix offer sound long-term growth opportunities, while Psion Digital will be focusing on its core assets in innovation and exploiting new premium markets for mobile networked devices."
"It had been an awful two years," says Gretton, who'd had to build up Psion's software expertise after the Symbian spin-off. "We were getting to the stage where we had programming resources at last, a stable platform, and were able to start turning out some product at last. There was great spirit there — then people scattered far and wide."
Davies now agrees that Psion "overestimated the competition".
Psion's strategy had been established the previous autumn. The markets had finally smiled on the Psion Group's "horizontal" strategy, and thanks to its 28 per cent stake in Symbian, they gave it an astronomical valuation. Psion was trading on the FTSE 100, and its 28 per cent stake would give it a handsome reward from a Symbian IPO: some guesstimated at least £1bn.
But instead of using Psion's astronomical FTSE valuation to move into a new area, Levin shored up the defences to buy the established industrial IT vendor Teklogix for around £240m.
Setting a torch to 18 years of consumer electronics success wasn't cheap.
Levin spent £29.2m exiting the consumer business, while a further £11.2m was written off to general restructuring — adding up to over £40m in exit costs in the first half of 2001 alone. Two hundred and fifty of Psion's 1,200 staff were lost, in addition to the 100 shed when Odin was cancelled.
Psion's users have mourned the decision ever since, and subsequent events suggest the decision wasn't so much rational, as driven by fear.
"We had a pile of cash that the company didn't want to spend," bemoans one of Psion product development team.
"The arrogance came back to haunt us. Psion was offered Palm on a plate and we didn't believe in it — so we told them to get lost. We still didn't believe in it even when we were being hammered by them."
"In the end we got ourselves," says Gretton.
"There was so much we could have done; we could have been a handset and yes, we could have been TomTom, we could have been a handset vendor; we could have been RIM — but all the appetite and all the aggression was gone," says one manager who left at the time.
Potter, Davies, and many other senior management now agree Psion left the business too early. The "depression" that hit global telecoms sales so hard in 2001, turned out to be barely a frown on a credit-powered British economy. UK sales of PDAs rose again in 2003 to their highest level for three years — but Psion wasn't there to take advantage of the Indian summer.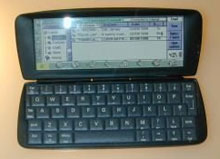 Psion's unreleased Revo, with Bluetooth
Scheduled products such as the Bluetooth Revo and the modem-equipped Series 5MX would have made the product viable for much longer. Levin's anticipated "commoditisation" took much longer than a year to materialise. Even today, Palm sells two PDAs based on a a mainboard and OS whose spec hasn't changed since it was launched five years ago. Palm's belated addition of rich colour and Bluetooth in 2002 gave it a lasting lease of life. It's pure profit.
"David Levin had no feel for consumer electronics," says Gretton.
"The great stuff was done out of a can-do spirit that was gradually lost in the latter years… Psion died by a succession of blows, people with less and less ambition — and more fear."
Asked why management lost its confidence, Gretton suggests: "They got too rich probably and too involved in the City — that's another world that didn't understand Psion."
"There was so much waste, so many ideas, and so many talented people. It's amazing what was achieved — and then thrown away." ®
After Protea: Psion from 1997 to 2001
In their own words: Mark Gretton; Martin Riddiford; Nick Healey; David Tupman; Sir David Potter;