Is there no end to this company's ambitions? Google has signed up Ingram Micro, the world's biggest IT wholesaler, to distribute its hardware search appliance box in the US.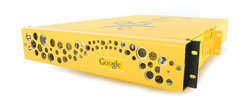 Distributors are useful for credit, delivery and product returns. They are used to making next to no money and love new products where the margins flow freely and the vendor marketing budgets are generous.
Does Google fit the bill? As the world's most efficient advertising network, it has little need to turn to others to make market on its behalf. But its name is not yet synonymous with enterprise search - Autonomy and FAST are contenders too. Neither is the search appliance particularly new - Google started flogging the boxes in 2002. But judging from the prices it quotes for search-in-box, the company has juicy margins to play with.
In a blog entry today, Rodrigo Vaca, channel marketing manager, Google Enterprise, said the company this month "passed the 9,000 mark for enterprise buyers of the Google Search Appliance and the Google Mini".
You can buy the Mini at the Google Store - it costs between $2000-$10,000. You can also buy the cheapest Google Search Appliance online. It will set you back $30,000 for a two-year license - not a bad mark-up for a rackmounted server. If you need to search more than 500,000 documents during those two years you may have to rent more boxes and call Google for rates - pricing is based on the number of documents trawled. ®
Similar topics