Toshiba has followed SanDisk to become the latest memory card maker to unwrap a Micro SD card that adheres to the high-capacity SDHC spec. Toshiba's offering, like SanDisk's - reviewed here - is a 4GB boy.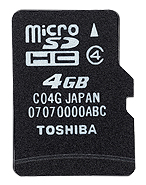 Unlike SanDisk, Toshiba doesn't have a downer on the SDHC classification system, happily highlighting the card's sustained write speed of 4MBps - good for a Class 4 rating - though it noted the card has a maximum write speed of 6MBps.
Toshiba's 4GB card is due to arrive on store shelves around the world in July, though demand will surely be limited by the paucity of phones and other handheld devices that can accept Micro SD cards with a capacity of more than 2GB. Nokia's N95 is one of the few that do.