This article is more than 1 year old
Apple's first handheld: the Newton MessagePad
Forgotten Tech Some say the apple doesn't fall far from the tree and when you consider the history of the PDA, that statement holds many truths.
While the iPhone looks set to take the market by storm, the HTC S620 and Samsung i600 were good takes on the Blackberry, and the Palm Treo range has long been tested and trusted. The Treo's roots lie in Palm's original Pilot, a product category HP's iPaq range later smartened up.
But all these gadgets have one thing in common: they base their capabilities and concept on the godfather of PDAs. Although sluggish and bulky by today's standards, the device helped set the tone for PDAs to come.
It was, of course, Apple's Newton MessagePad. Born in August 1993, the MessagePad was first unveiled at MacWorld Boston and was priced at around $699.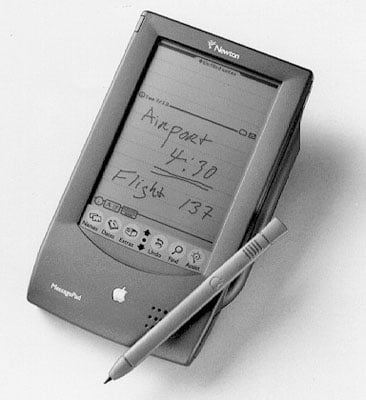 The first Apple MessagePad
The device was a revolution in personal computing, helping to create a whole new world of mobile working. Well, if you believed Apple's hype, it would. Although commonly referred to as the Newton, this was actually the MessagePad's operating system.
The first MessagePads were manufactured by Sharp Electronics - Sharp even released its own version of the product, the ExpertPad - and featured large, bright and clear 336 x 240 LCD screens, though sadly never in colour. Some early models did feature golden coloured screens, something which many fans were sad to lose when Apple later switched manufacturers.
The main body of the MessagePad was also often encased in rubberised plastic, but after heavy use tended to flake or peel and so was later dropped as a feature by Apple.
At its core, the first MessagePads were relatively sophisticated for the time. The 100 - Apple's second MessagePad, introduced in March 1994 - used a 20MHz ARM processor, alongside 640KB RAM. The last MessagePad, the 2100, introduced in November 1997, had a 162MHz processor and included 8MB of memory - 4MB of Ram and 4MB of Flash. By this point, the screen had grown to 320 x 480 but could only show 16 shades of grey.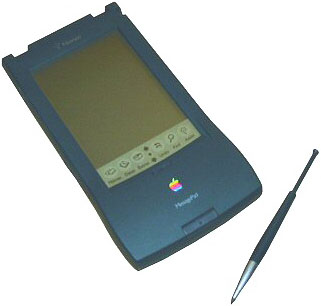 Apple's second-gen MessagePad, the 110
For many this was of little significance, because the MessagePad meant something else. It meant people no longer had to be tied to their desks in order to perform computing tasks.