This article is more than 1 year old
Apple's first handheld: the Newton MessagePad
The MessagePad's unique selling point was its ability to capture handwriting onto its touch-sensitive screen using a stylus - which some fans dubbed 'the carpenter's knife'.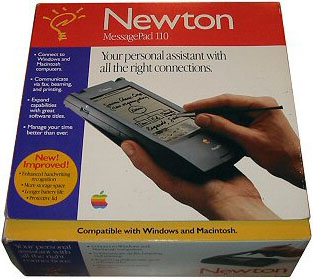 The MessagePad 110 box
Apple's handwriting recognition technology was called Calligrapher. While quite advanced for its time, it was frequently lampooned by the media for its constant inability to recognise handwriting, especially in cursive form.
Even The Simpsons got in on the joke, sketching out a scene where a MessagePad was used to store the memo "Beat up Martin", but which was interpreted as "Eat up Martha". The Doonesbury comic strip also poked fun at the MessagePad's iffy handwriting recognition as well, much to the annoyance of Apple.
In an everyday setting, the MessagePad was seen as a pretty cutting edge device, though. For example, the user could write "Dinner with Laura tomorrow" onto its screen and then tap on the Assist button, which would - depending on Newton's interpretation of the text - open a meeting slip already completed and showing the last-accessed person named Laura, tomorrow's date and the time allocated to the meeting.
The MessagePad had its rivals, of course. Perhaps the most notable was the Palm Pilot, which used a different, character-by-character text recognition technology that, although more difficult to learn, proved to be more accurate at recognising user's input.


The MessagePad lampooned by Gary Trudeau
Amazingly, a Gary Trudeau cartoon was incorporated as an Easter Egg into Newton OS 2.0.
The MessagePad was still hugely successful for Apple though, with around seven models of the handset developed between 1993 and 1998, together with several different versions of the Newton OS as well, from 1.0 to 2.1.
The Newton OS had many strings to its bow, including fax and email capabilities. The Notes application allowed users to store information such as memos, checklists or to-do lists. Although initially fairly basic, Newton OS 2.0 was refined to allow users to bullet-point notes and develop "trees" - a string of related memos.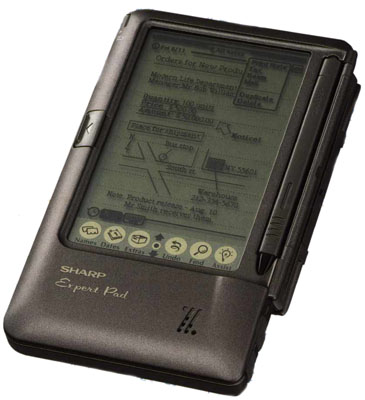 Newton licensed: Sharp's ExpertPad
Names was developed for storing contact details. A nice feature, present even on most basic mobile phones today, was that Newton would automatically make the entry of a birthday a recurring event, ensuring you never had an excuse to forget that gift.