This article is more than 1 year old
Apple's first handheld: the Newton MessagePad
Present-day PDAs and mobiles also still feature many of Newton's additional applications, all of which were accessed through Newton's GUI, such as an In Box, Out Box, Clock, Calculator and find facility.

The MessagePad's Newton GUI
Of course, all this information meant Apple needed to develop a way for the MessagePad to store data, and this came in the form of Newton "soups" - freeform databases that could be accessed by all of the MessagePad's applications. Each application had its own soup, but each soup was also accessible by other applications, meaning notes, memos, the address book, etc could all cross-reference data stored in other soups.
While the soup structure was undoubtedly a sophisticated method of storing information, it ultimately meant that those using the MessagePad as a compliment to a PC weren't able to synchronise data between the two, because each used different data storage structures.
Apple did ensure though that the MessagePad had an edge over rivals in its ability to allow users to connect. All models featured infrared and had a PCMCIA slot to allow Flash cards, and wireless adaptors to be added.
Battery life was always a mood point on most models though. The three AAA-powered MessagePad and MessagePad 100 could manage 14 hours' runtime. The upgraded MessagePads 110 and 130 used four AA batteries - not good for the device's size and weight, but did give the MessagePad around 24 hours of use.
All the MessagePad models were significantly larger than PDAs on the market today. The original MessagePad was 18.4 x 11.3 and 1.9cm and weighed 408g. The second-gen design of the MessagePad 110 upped the weight to 581g and the size to 20 x 10 x 3.1cm.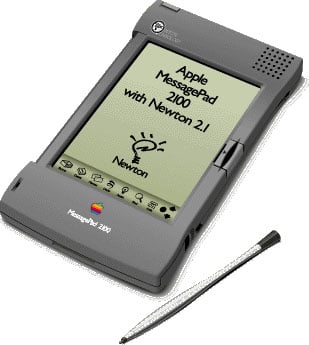 Apple's last MessagePad, the 2100
The MessagePad 2100 was larger and bulkier still, measuring 27.5cm x 11.9 x 2.1cm, while weighing 640g.
For most of the MessagePad's life, Apple sought to market it as a device that could reinvent the computing methods of the time. This ultimately proved an impossible task, and Apple attempted to reposition the device more as a mobile adjunct to a Mac - something the Palm Pilot was successfully doing in the PC world.
Apple's awakening came too late, and combined with Newton's poor handwriting recognition, the high cost and the MessagePad's large size, the death knell of the first PDA was sounded in February 1998.
More Forgotten Tech...
• 15 years ago: the first mass-produced GSM phone
• Compact Disc: 25 years old today
• From 1981: the World's first UMPC
• The IBM ThinkPad: 15 years old today
• Atari's Portfolio: the world's first palmtop
• 'Timna' - Intel's first system-on-a-chip
• BeOS: the Mac OS X might-have-been
• Sony's first Mylo