Apple posts iPhone-friendly iTunes, accessories
With just hours to go before the iPhone officially goes on sale, Apple has paved the way with a new version of its iTunes jukebox software and a barrel-load of iPhone accessories.
The latest version of iTunes, 7.3, allows the handset to synchronise music, videos and personal information data with a Mac or PC. It also allows users to share digital photos from any computer in a building/home equipped with an Apple TV.
Meanwhile, Apple has priced up its range of official iPhone accessories, including a sleek Bluetooth headset, a travel cable for charging said, and a two-device dock for both the headset and the handset.
The iPhone Bluetooth headset allows anyone lucky enough to have already taken delivery of an iPhone to make and answer calls wirelessly. But why would you want to hide away this year's must have gadget? You're paranoid about having the most hyped product of the year nicked, that's why.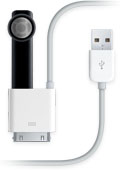 Apple's Bluetooth headset and handy USB charger cable
The headset provides up to 5.5 hours' talk time and 72 hours in standby mode.
A smart little Bluetooth travel cable also enables you to charge your headset via an additional port built into the standard iPhone-to-computer data-transfer cable.
Then, to make sure you always have power on your headset and your iPhone, Apple has created a USB-powered dual dock that allows you to power both devices through the same cable. Ingenious...


Apple's Dual Dock: one slot for the phone, another for the headset
All iPhone accessories are only available in the US at present, of course. The iPhone Bluetooth headset is priced at $129 (£64), the iPhone Bluetooth travel cable is $29 (£14) and the iPhone Dual Dock is $49 (£24).