Scientists have a better understanding of the role black holes have played in the evolution of galaxies in our cosmos, thanks to a new and unprecedentedly detailed simulation of the universe developed by researchers from Carnegie Mellon University.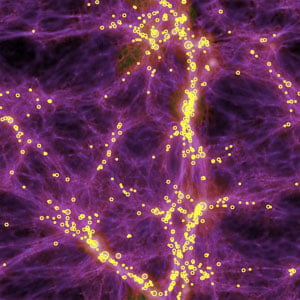 Black holes were once thought to be rare beasts. Still elusive, they are now thought to be ubiquitous in our universe. Despite this, they have not been included in previous universe simulations because on such a grand scale of cosmic structure, they are just too small to figure.
Now a team of scientists, led by theoretical cosmologist and associate professor Tiziana Di Matteo, incorporated the physics of black holes into a universe simulation for the first time.
"It is very computationally challenging, involving more calculations than any prior similar modeling of the cosmos, and the result offers us the best picture to date of how the cosmos formed," she said.
The simulation has revealed the regulatory role black holes play in galaxy formation. Di Matteo explains that although virtually all galaxies had a quasar at their core in the early days of the universe, now only one in 10,000 does. The simulation sheds some light on why this is.
"The black hole tries to swallow a lot of gas," she says. "But this growth is kind of suicidal. As it tries to swallow more and more it will radiate so much energy that it will affect its surroundings and stop more gas from flowing in."
As the gas stops flowing in, the edge of the black hole isn't heated any more and gradually the radiation stops, shutting off the quasar.
Di Matteo built her universe on the Cray XT3 system at the Pittsburgh Supercomputing Center (PSC). She set up the initial conditions to match the observed cosmic microwave radiation produced at the birth of the universe, and seeded her microcosm with a quarter of a billion particles of measurable everyday matter.
Next, fluid spheres went in to represent cooling clumps of gas, equations to account for dark matter, growing black holes and exploding stars.
Once all the data was in, Di Matteo turned the universe over to the 2000 processors of the XT3. Even with all this computing power, the team had to use special techniques to help reduce the workload. Once this was set up, the simulation ran for four weeks.
Check out the results here. As the universe unfolds, the matter becomes lumpier and lumpier. The first black holes appear when the universe is 300m years old. By the end, supermassive black holes lurk in the centre of most galaxies.
Now that the simulation has run, the next step is to analyse the data. This, Di Matteo says, will be a pleasure. ®