This article is more than 1 year old
Apple iPhone
May return it
The Setup
Setup couldn't be easier. No, really. It couldn't. You can sign up for wireless service and activate the device without a phone call – much less a trip to the local cellular store. Apple gives you the option of handling the entire process online, through its iTunes service.
All told, it took me the better part of an hour to set the thing up. But that's because I'm delinquent when it comes to updating my desktop software. The iPhone won't work without iTunes 7.3 and Mac OS 10.4.10 - or Windows Vista or XP Service Pak 2, if you're on a PC - and I was running much older versions.
Once my desktop was updated, I had the phone activated in less than ten minutes. There was a moment where AT&T's website struggled to pull up my info, but after an extra try or two, it finally responded.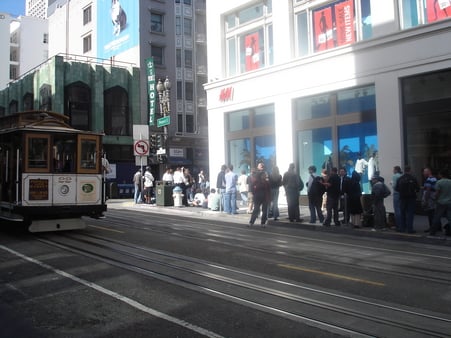 The line for the Apple iPhone - not the cable car
The Software
But enough with setup. The real revelation is Apple's stylus-free GUI. The interface is so intuitive - and so responsive - you can do almost anything without a second thought. To open an app, you simply touch it with a finger. To move an item back and forth, you slide your finger to and fro. Giving you the power to do almost everything with a touch to the screen, Apple includes only the one hardware button.
The ability to navigate with your bare hands lends a little something extra to almost every application – from the calculator and the weather widget to email and visual voicemail – but it's particularly handy when it comes to using Google Maps and browsing the web. You can zoom in on a map or a web page simply by touching two fingers to the screen and then spreading them apart. If only it were that easy on the desktop.
The only part of UI had trouble with was the on-screen keyboard. Even after a few minutes of practice, I hit the right key maybe 50 per cent of the time. My wife, by contrast, took right to it. But her fingers are considerably smaller than mine, and she has a general knack for showing me up. For most, I'm sure the soft keyboard will take some getting used to, and if your hands are on the bulky side, I question whether you can ever master it completely.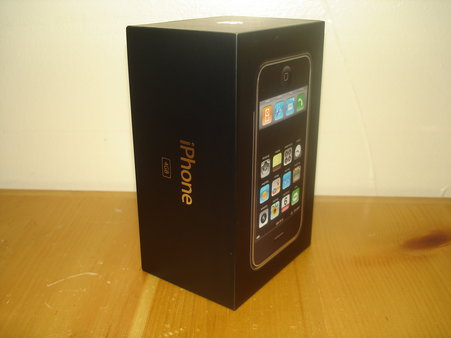 The coveted box