This article is more than 1 year old
Apple iPhone
May return it
The Sights and Sounds
How does the device rate as a phone? As a media player? Call quality is nothing special. Calls sound like, well, cell phone calls. But the speaker phone - easily accessed, like everything else - works unusually well.
Music playback is brilliant – whether you're listening through headphones or in the open air. And you can't argue with the look of photos and videos - as long as they're of decent quality to begin with.
I must admit that, once I had my iPhone up and running, the first thing I visited was YouTube, the iPhone "mystery app" that wasn't announced until early last week. In some ways, YouTube videos look even better on the phone's 3.5in screen than they do on the average PC display. There's a certain immediacy you don't get on the desktop.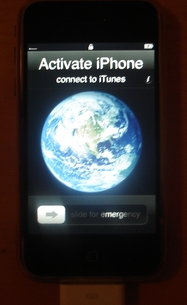 The first screen - pre-activation
The Snafus
The flipside is that I still haven't gotten through an entire YouTube video without it stalling on me. Performance was dreadful over AT&T's wide-area Edge network, and I still had problems over local-area Wi-Fi - though I've yet to determine why; there should be plenty of bandwidth.
Loading standard web pages wasn't a problem with Wi-Fi, but it certainly was with Edge. I've used my iPhone for half an evening, and already, I wish it had faster wireless access. I'm also wishing it had a better camera. Even in good light, its two-megapixel shooter is dreadful.
My other big complaint concerns email. Accessing my Gmail account took no more than a few minutes - in addition to entering my user name and password, all I had to do was log on via my desktop and set up my account for POP download - but the phone ended up tossing all my mail into a single container. Received messages. Sent messages. Everything.
These complaints aren't going away, and as I continue to use this thing, I'm sure that others will crop up. El Reg Associate Editor Andrew Orlowski says you can never draw conclusions about a phone unless you've used it for at least a month. He even predicts that users will grow weary of all that screen touching and call out for more hardware buttons. We'll keep you updated...