iPhone autopsies conducted
What makes it tick?
---
It hasn't taken long for many of the Apple iPhones acquired over the weekend to be taken home and taken to bits as hardware fans and chip analysts alike try to find out what kind of kit the "revolutionary" handset is packing.
Perhaps the most complete set of disassembly pics have been provided by Mac repair and upgrade company iFixit, which has posted a part-by-part dissection beginning with the phone's packaging and ending with a single circuit board: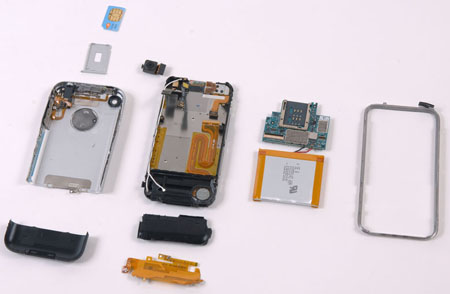 iFixit disassembles the iPhone
iFixit's take-apart and similar dissections from others reveals the iPhone contains two circuit boards. First, the smaller of the two, which has the handset's Samsung SSL8900 processor with 512Mb of on-board memory. It's accompanied by a Wolfson WM8758 audio codec chip.
The second board is home to a Marvell 88W8686 Wi-Fi chip and a CSR BlueCore Bluetooth controller. Cellular connectivity is provided by two Infineon chips, and the iPhone's display is controlled by a Nat Semi part.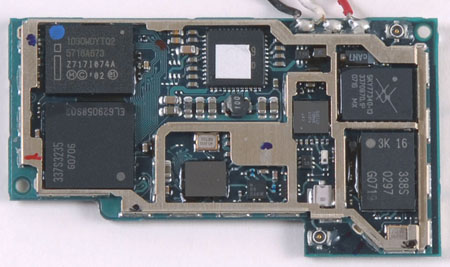 One of the iPhone mobos revealed
Samsung provides both the 4GB and 8GB Flash chips found in the two versions of the iPhone, both of which also contain a smaller, 32MB Flash chip which also contains 16MB of SRAM to hold the code running on the CPU.
Other autopsies include one over at AnandTech and a third, conducted by research firm Semiconductor Insights, that's covered by EETimes.
Does any of this actually matter? For the companies supplying product to Apple, it makes for a nice design win, of course, but more importantly it shows how much greater integration of multiple chips into a few will aid the iPhone's manufacturing cost going forward.