This article is more than 1 year old
NASA snaps mysterious night-shining clouds
Noctilucent, no less
A NASA satellite has captured its first images of noctilucent clouds, brightly lit night-time clouds that form high in Earth's atmosphere during each hemisphere's summer.
The night-shining clouds form between May and September in the northern hemisphere. Very little is known about how they form, or why they are appearing more regularly, and at lower altitudes.
NASA says that now its Aeronomy of Ice in the Mesosphere (AIM) mission is in place, it is seeing them more frequently as the summer season progresses.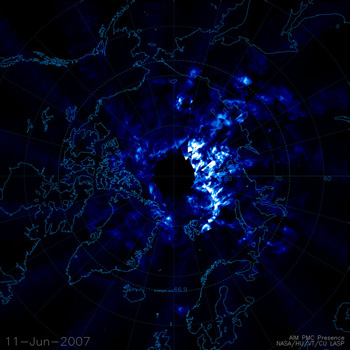 First satellite snaps of the noctilucent clouds
When viewed from space, the mysterious luminescent clouds are known as Polar Mesospheric Clouds, or PMCs. AIM principal investigator James Russell III of Hampton University says the changes in the PMCs suggests a connection with global changes in the lower atmosphere, and could be an early warning that our environment is being altered.
"It is clear that PMCs are changing, a sign that a distant and rarified part of our atmosphere is being altered, and we do not understand how, why, or what it means," he said.
The AIM satellite was launched at the end of April this year (2007). The satellite began taking scientific observations just four weeks after it was inserted into orbit. NASA says all three of its instruments are now returning high quality data.
The satellite is equipped with panoramic cameras to collect daily images of the Arctic polar cap. It is also measuring the variation in size of the particles that make up the cloud as part of the Solar Occultation for ice experiment, and recording the amount of space dust entering the atmosphere for the Cosmic Dust experiment. NASA scientists will use this data to work out what role cosmic dust plays in the formation of the clouds.
AIM is the latest in a string of small, very specific Earth-observation missions launched by NASA under the Small Explorers banner.
When the northern hemisphere's noctilucent cloud season comes to a close in mid to late August, the satellite will not have long to wait before it can begin observations of the clouds in the southern skies. ®