This article is more than 1 year old
Conservapedia wades into Inverness
'An unequalled miasma of debauchery and ignorance'
We're delighted to report that Conservapedia - the "conservative encyclopedia you can trust" - is maintaining its hard line on liberal bias.
Try its entry on Inverness, a frank analysis containing not one iota of wishy-washy pinko PC dogma: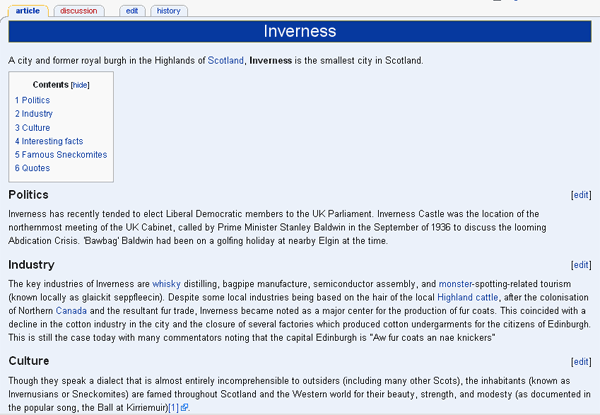 Inverness
A city and former royal burgh in the Highlands of Scotland, Inverness is the smallest city in Scotland.
Politics
Inverness has recently tended to elect Liberal Democratic members to the UK Parliament. Inverness Castle was the location of the northernmost meeting of the UK Cabinet, called by Prime Minister Stanley Baldwin in the September of 1936 to discuss the looming Abdication Crisis. 'Bawbag' Baldwin had been on a golfing holiday at nearby Elgin at the time.
Industry
The key industries of Inverness are whisky distilling, bagpipe manufacture, semiconductor assembly, and monster-spotting-related tourism (known locally as glaickit seppfleecin). Despite some local industries being based on the hair of the local Highland cattle, after the colonisation of Northern Canada and the resultant fur trade, Inverness became noted as a major center for the production of fur coats. This coincided with a decline in the cotton industry in the city and the closure of several factories which produced cotton undergarments for the citizens of Edinburgh. This is still the case today with many commentators noting that the capital Edinburgh is "Aw fur coats an nae knickers"
Culture
Though they speak a dialect that is almost entirely incomprehensible to outsiders (including many other Scots), the inhabitants (known as Invernusians or Sneckomites) are famed throughout Scotland and the Western world for their beauty, strength, and modesty (as documented in the popular song, the Ball at Kirriemuir).
Interesting facts
Inverness and the surrounding area has the second highest concentration of red hair in the world by head of population after the Kingdom of Fife.
Inverness residents are entitled to a free set of bagpipes on their 10th birthday on account of a bylaw dating back to the 1750s.
Inverness was a pivotal location in the Shakespeare play, Macbeth.
Famous Sneckomites
Inverness was the birthplace of former UK Liberal-Democrat party leader Charles Kennedy and the novelist 'Mohammed' Ali Smith.
Quotes
Dr Samuel Johnson said of Inverness: "It is an unequalled miasma of debauchery and ignorance, whose squalor is by no means leavened by the ready availability of first-class quaffage and strumpetry."
---
Terrific. We have no doubt that Conservapedia will act with lightning speed to set the record straight on the fair city of Inverness and smite with terrible vengeance the self-proclaimed FriendOfDorothy whose editorial contribution was evidently vital to the process which created this entertaining piece of tomfoolery. ®
Bootnote
Thanks to Lansalot for the illuminating heads-up. He not unreasonably asks: "Where are my FREE bagpipes anyway?"