With the UK's public-space smoking ban now firmly in place, your car's cigarette lighter may be seeing a little less action. Holux reckons its spherical GR-239 Bluetooth GPS receiver will give the in-car power outlet a new lease of life.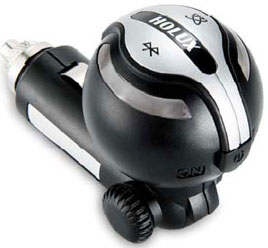 The GR-239 provides Bluetooth devices with access to GPS data thanks to built-in a SiRFStar III chip. It also works via a USB cable. LEDs are also built into the device to indicate GPS, Bluetooth and battery activity.
Holux claims the GR-239's chipset features parallel tracking of up to 20 satellites, giving it an accuracy of 5-25m Circular Error Probable (CEP). It's auto-locate time is around eight seconds, the company said.
In case you're wondering, CEP is a military measure defined at the radius of a circle into which a projectile will land at least half the time. So there's only a 50 per cent chance the GR-239 will locate your car within 5-25m of its true position, depending on the number of satellites being tracked and other fscto. In perfect conditions, GPS is never going to give a better accuracy than 3m.
The Holux GR-239 is available now for around £60 (€88/120).