Philips parades gem-like gadgets for luxury loving ladies
Look, girls, sparklies
I like being a girl. If I were a man, I'd never get the chance to purchase shiny items like Philips' Swarovski crystal-encased earphones and - luxury of luxuries - USB Flash drives, all hi-tech toys cunningly disguised as jewelry.
Philips announced its Active Crystal range in March with a view to getting these sparkly items into fashion outlets in August. A month ahead, it's now giving us a glimpse of what they'll look like.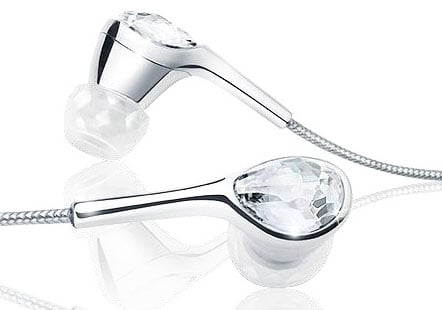 Philips' Amazone: hi-tech jewelry or shower attachment? You decide...
First up, the Amazone earphones, in-the-ear jobs - handy for blocking out the noise of a raucous beer-filled boyfriend ebulliently watching his favourite sporting pasttime on the box - with a twinkly bit of glass to suggest a bulging purse and attract the envious attention of the lower orders.
And muggers, if you're daft enough to go out with these on your ownsome.
I showed a set to the TOYboy, and he immediately compared them to the new shiny, chrome-look shower attachment he'd purchased this past weekend from B&Q. He has a point.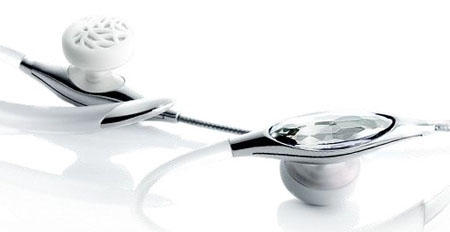 Philips' Mirage: all that glitters...
Accompanying Amazone, are three similar products dubbed Space, Icon and Mirage.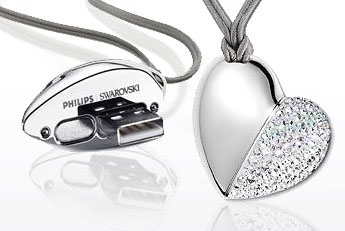 Philips' Heart Ware: wear it where?
The Flash drive line-up is longer, comprising four items: two heart-shaped necklace pendants and a pair of lock-like drives you can dangle from a bracelet, phone or, indeed, labial piercing.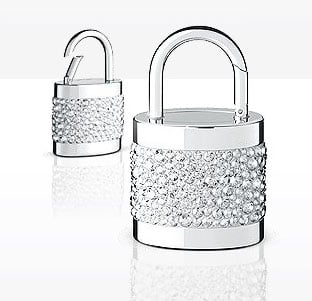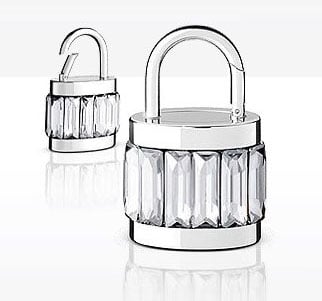 Philips' Lock Out and Lock In
The Lock In and Lock Out both contain 1GB of Flash, as do the Heart Beat and and Heart Wave. What else can I say: they're shiny and sparkly. What more could we girls ask for?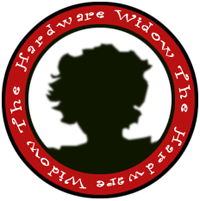 The Hardware Widow is hitched to a younger, hardware-obsessed geek
who thinks he knows more about technology than she does...