Vibrator speaker system causes a buzz
You hum it, I'll play it
It's probably better to read about what this little gizmo does before you look at the pictures, otherwise you may forgiven for thinking that the I-MU Vibro was some sort of, ahem, 'personal stimulation product'. Just like a good spy novel or a run around the block...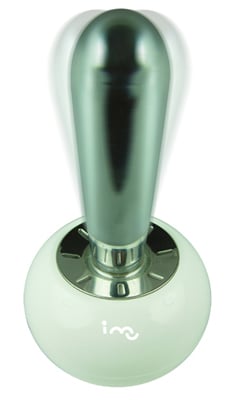 i-MU's Vibro: you hum it, I'll play it
But the I-MU Vibro's looks are deceiving - it's actually the latest in a rapidly expanding range of rigs designed to turn any flat surface into a loudspeaker.
This variant of the technology uses something called Terfenol-D placed inside an aluminium case with a coil wrapped around it. When electricity is passed through it the coil, its expands and create a pressure equivalent to 400lbs.
Sitting the 8cm wide, 12cm high, 8cm deep device on a flat surface then means that it will convert electronic signals into mechanical energy, which causes the surface to shake, rattle and - we'd imagine - roll, therefore giving you a music broadcaster of up to 30W.
The joystick-shaped device is battery powered and connects straight to your music source. It's also available in a range of colours, but sadly not sizes, tastes or textures.
The I-MU Vibro is available now and retails for around £50 (€73/$100).