Swiss take on North America at nano-droid Subbuteo
'Sh*t, I've dropped the Annapolis football team down a drain'
This weekend, the city of Atlanta, Georgia will play host to an international soccer contest, in which all the players will be robots. So far, so yawnworthy - but wait. These droid sportsmen - unlike the ordinary, everyday mechanoid ballplayer - will be nanoscale ones, each smaller than an amoeba.
Now we're talking.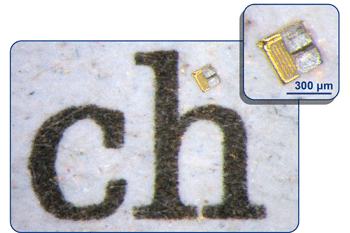 Nanosoccerbot on a newspaper. It's a game of two millimetres, Ron.
The clash of the miniscule mechanoid athletes is to take place at the 2007 RoboCup*, organised by the US Department of Commerce's National Institute of Standards and Technology (NIST).
There are leagues at the government robolympics for various more mundane mechanoids - "Four-Legged, Humanoid, Middle Size, Small Size, Simulation and Rescue Robot," according to NIST - but this is the inaugural nanodroid event. According to the press announcement:
"NIST hopes that a competition between the smallest robots in RoboCup history will show the feasibility and accessibility of technologies for fabricating MicroElectroMechanical Systems (MEMS), tiny mechanical devices that are built onto semiconductor chips and are measured in micrometers (millionth of a metre)."
Obviously it's a bit naughty to be calling these comparatively tubby droids nanobots: they ought to be a few orders of magnitude smaller. But their weight is truly nano, being measured in nanograms, and "nano" is a much trendier word than "micro," so perhaps NIST can be forgiven.
The concept of what's actually football has been stretched a bit, too. In fact, the diminutive droids will be engaged in more of a skills test than an actual match. Events will include the "two millimetre dash", slalom dribbling event, and a ball handling contest. The "ball" is actually more like a flat puck, smaller than a disc sliced off the end of a human hair. Operator skill as well as technical puissance will be tested, too, as the microscopic players will be handled by remote control.
Five teams are entered: two from Carnegie Mellon University, and one each from the U.S. Naval Academy, the Swiss Federal Institute of Technology and Simon Fraser University in Canada. In keeping with the modern soccer trend, the audience will watch on screen; it might be a tad difficult to make out anything from the terraces around a 2mm pitch.
The NIST annoucements clearly leave many questions unanswered. How will the competing micro-players travel to the match? Presumably in carry-on luggage, or perhaps the coach's wallet, shirt pocket etc. ("Oh no, I've dropped the Annapolis football team down a drain.")
And why are we using such a mundane playing arena? Surely the chance to insert the pitch into someone's body, Fantastic Voyage style, should have been seized. Talk about your tonsil hockey. Bend it in Beckham. Etc.
Tips for the weekend's match? Well (cough) the Swiss could be the team to watch.®
*Contracted with headlines aforethought, we suggest.