Inflated real-estate market goes ballistic (in space)
You can afford to build it: can they afford to come?
Vegas-based real-estate kingpin Robert Bigelow's second prototype inflatable space habitat is now in orbit and doing well, according to its parent company.
The business plan of Bigelow Aerospace is to build and put into orbit large, pressurised inflatable modules which can be leased out to paying customers. Many have characterised the company's plan as "space hotels", but Bigelow - who says he has invested $75m - denies this.
"Bigelow Aerospace is not in the hotel business," he says on the firm's website.
"We are in the business of creating structures for other people to use as hotels, laboratories, factories, corporate yachts, adjunct colleges, medical clinics, astronaut training facilities, or imaginative environments for public entertainment, etc."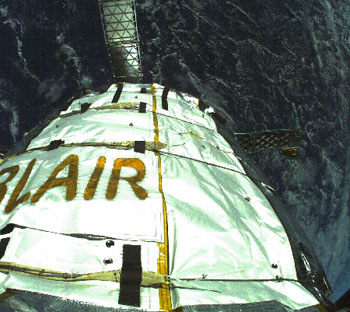 View from the prototype habitat Genesis II last week.
All that's a way off for now, however. Following last week's launch of the Genesis II, Bigelow has now sent two blow-up test-beds into orbit using Russian ICBM-based "Dnepr" launch vehicles. The next plan will be to send up "Galaxy," a 4 x 3.3 metre inflata-habitat prototype, which will "bridge the evolutionary development" between the current Genesis jobs and "Sundancer", the first Bigelow human-habitable platform.
Sundancer is supposed to be in orbit by 2010, and to be capable of supporting up to three human beings. In 2012, Bigelow wants to send up an even larger module, the BA 330, which could dock with Sundancer to create a nascent "space complex".
The company and its founder reckon their inflatable habitat tech is the best and most economical way of creating livable platforms in space. They say the six-inch-thick layered skins of their spacecraft are just as sturdy as the rigid modules used in the International Space Station, a much more expensive project.
All that may well be true. But the ability to build habitable places in space doesn't necessarily mean people will go there. The big obstacle, as with every space application - from missiles to probes - is shoving mass up high enough and fast enough that it can stay in orbit.
It ought to be possible, at least theoretically, to build large inflatable structures which are quite lightweight and can be orbited fairly economically as these things go. In the end they're just high-tech skins full of gas, and the cube-square ratio between volume and surface area will work in Bigelow's favour as his balloon-buildings get bigger. But lifting the inhabitants and their supplies is always going to be hellishly expensive using existing chemical rockets, which typically have to use multiple throwaway stages to achieve orbital performance.
Bigelow himself admits this is a big snag.
"If Bigelow Aerospace is successful, we should be consuming a significant number of [launch] vehicles each year," he writes.
"We may need to either participate in some form of ownership in these transportation systems or at the very least to broker them for our customers...the problem is transportation."
He figures that if he achieves his goal of two large habitats in operation by 2015, he would need perhaps 16 Atlas-V launches worth of lift for people and cargo in a single year in order to use the habitats properly. Putting this into context, there are only four Atlas V launches planned in total for 2007: and the rocket isn't even rated for humans to travel on it (although Bigelow is trying to sort that out).
The position is rather as if Bigelow was seeking to market European second homes to Brits in a world where there was no cheap air travel. Not many would snap up an affordable villa, flat, timeshare, or whatever on the continent if it cost millions to visit it.
"I have recognised all along that we may be ready with a destination, but must wait for the progress of affordable, available transportation to catch up," says Bigelow.
Sad to say, for those fancying a stay in a space hotel, a cruise in a space yacht, or a seat at the zero-gee ballet, he's probably right. ®