Google Mashup beta goes out to world+dog
Persistence is its saving grace
Software as a Service (SaaS) is one of this year's biggest trends. It's one that's also moving away from simple applications to whole hosted development platforms.
Google's Mashup Editor is the latest online development platform to appear. Like Microsoft's Popfly and Yahoo!'s Pipes before it, it's a tool for building hosted JavaScript applications. Unlike Popfly and Pipes, however, it's much more of a barebones solution, leaving the graphical front-ends firmly at the door.
Launched at Google's recent Developer Day, it's taken a while for the beta test invites to make their way outside the Googleplex. That's probably a good thing, as the service isn't just a development tool for mashups – it's also the showcase for Google's own XML-based declarative web programming language (fully compliant with all the latest Web 2.0 buzzwords), along with a hosting platform that takes advantage of the Google Base APIs to give you a place to store and manage data. Applications are published on the googlemashups.com domain – so you'll need to use iframes or similar techniques to embed them in your sites and services.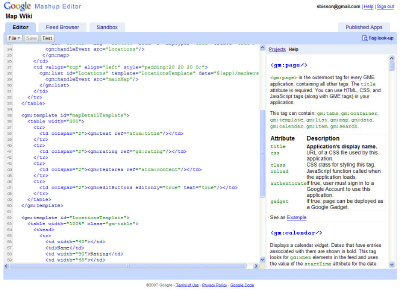 So what's the Mashup Editor like? Like most Google applications the user interface is relatively simple and browser-based. Once you've logged in you'll find a tabbed window with an editor, a feed browser, a test area, and a list of published applications. The editor is better than most online code editors, with syntax highlighting and a tool for managing projects. The feed browser lets you see how Google's ATOM data format works with existing RSS feeds, as well as examining data stored in Google Base.