Review Hands up who doesn't own a USB Flash drive, purchased or acquired as a freebie? No one? We're not surprised. These things are everywhere, leaving manufacturers keen to come up with novel ideas to sell us more. SanDisk's approach: push data security with a pair of password-protected products.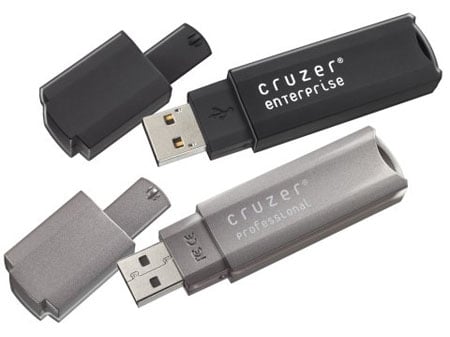 For the security minded, we have the Cruzer Professional and the Cruzer Enterprise. The Pro is the more basic of the two devices. Like the Enterprise drive, it protects data using 256-bit AES encryption, but whether you use it is left entirely to you.
Plugging in the drive for the first time is just like using any other USB Flash drive. Upon opening it up in Windows, the 'My Computer' window reveals you have the full 1GB available to you and to anyone else who gets their hands on it. Pre-installed is the user manual in PDF form - it's best to copy it off drive so you still have it after re-formatting - and the CruzerPro app.
Running CruzerPro allows you to set up a password-protected, encrypted private space just by dragging a slider to specify its capacity and, finally, entering a password. When you're done, click the 'Format' button and your safe-space is created. Double-clicking on the 'CruzerPro' icon in future allows you to open the private drive for use.
Copy over some data and it's encrypted. The protected partition has a shortcut to CruzerApp that you double-click to log out. You'll need to do this to re-access the public space on the drive - as you can only have one open at a time, each being assigned the same Windows drive letter. Personally, we'd like to have both available side by side, but that's a minor niggle.
Loading the Cruzer Pro on the Mac mounted only the public partition. The private space didn't show at all, not even as an inaccessible volume, in either Finder or Disk Utility.
Re-connecting the drive in Windows once again allows you to access the private partition by successfully entering the password. But here's a thing: the login window also has a Settings button that takes you to the formatting screen. Now, there's no way your data can be accessed from here, but what an unauthorised user can do is reset the password and the size of the private space.
Similar topics