Ejecting the drive from the PC, we plugged it instead into a Mac. Only the Cruzer's public partition mounted on the desktop. Since SanDisk's drive-access software only runs under Windows, we couldn't enter the password to reveal the private partition under Mac OS X.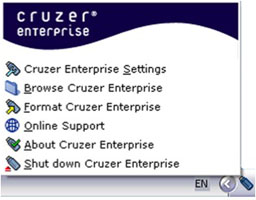 The Cruzer Enterprise's system tray menu
SanDisk quotes maximum read and write speeds of 24MBps and 20MBps, respectively, for both drives. We created 500MB worth of 10MB files, and copied them to and from each drive. In the case of the Cruzer Pro, we ran the test twice, once on an unprotected drive and a second time with encryption enabled.
Reading the files back took a uniform 24.4s for a read speed of 20.5MBps, but to be fair you can probably add 2MBps because we waited for Windows Vista to fade out the progress dialogue before stopping the timer. Vista reported a top speed of 23.5MBps, so we believe we overtimed slightly.
Ditto for the write tests, which came to 29.3s and 28.3s for the Cruzer Pro with unencrypted and encrypted spaces, respectively. Writing to the Cruzer Enterprise took 30s. These timings yield write speeds of, respectively, 17.1MBps, 17.7MBps and 16.7MBps - not so very different and again a couple of megabytes per second less than Vista reported.
So near enough as fast as the manufacturer claims, we'd say.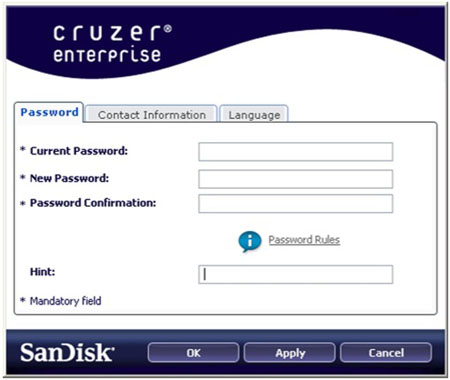 SanDisk's Cruzer Enterprise software
Verdict
The value of these things depends ultimately on your data-security requirements. Both are certainly much more expensive than regular USB Flash drives of the same capacity. The Cruzer Enterprise will certainly keep data safe, but given the need to create and remember a complex password, we'd rather use a biometric device to keep information safe, but easily accessible.
The Cruzer Pro wins through though, by providing the same level of encryption as the Enterprise, but with the flexibility to have publicly accessible storage too. It's not as secure - no matter how good the encryption, a poor, easily guessed password will leave it open to exposure - but the freedom to use it how you want makes it the better choice.

SanDisk Cruzer Pro, Enterprise secure USB Flash drives
A mandatory complex password makes the Cruzer Enterprise secure but unfriendly...
Price:
$75 (£38) 1GB, $125 (£63) 2GB, $185 (£92) 4GB
UK pricing TBC RRP

SanDisk Cruzer Pro, Enterprise secure USB Flash drives
With both private and public storage space, the Cruzer Pro is a winner...
Price:
$55 (£28) 1GB, $95 (£48) 2GB RRP
Similar topics