NASA has confirmed that the "Dawn" space probe to the asteroid belt will indeed launch on Saturday, ending speculation that the mission might be delayed.
After launching, Dawn will spend four years in transit to the asteroids, circling the Sun twice and gaining a "gravity assist" on the way by making a close approach to Mars.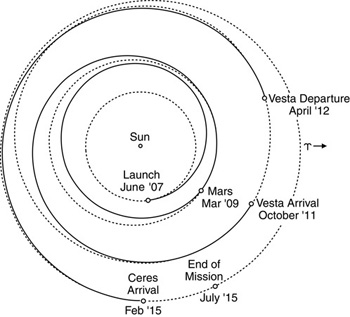 Planned voyage of the Dawn space probe
In 2011, Dawn will go into orbit around Vesta, one of the larger rock-like asteroids in the Belt. After around five months studying Vesta, the probe will depart in early 2012 and complete most of a further circuit round the Sun, finally catching up with Ceres in 2015 and going into orbit around it. Ceres is a large example of the other main asteroid type, thought to be largely icy in composition.
The Dawn mission will be the first to go into orbit around a Belt asteroid, and also the first to orbit two different bodies. This unusual flight profile would be all but impossible, according to NASA, were it not for the spacecraft's innovative propulsion system.
Dawn will lift off from Earth aboard a conventional, chemical Delta II rocket, but its journey to the asteroids will be propelled - apart from the helping hand from Martian gravity - by means of an ion drive.
In an ion drive, thrust is still provided by throwing stuff out of the exhaust just as with a regular rocket. The difference is that rather than chemicals burning and expanding to throw themselves out of a combustion chamber, Dawn's Xenon propellant is squirted out of its back end using electrical power generated by solar panels.
As one might expect, this produces an exceptionally feeble thrust; equivalent to about 0.02lb. The clever bit is that the ion engine achieves this thrust very economically, using only a tiny amount of propellant, because it accelerates the Xenon-plasma exhaust to such a high velocity.
Dawn takes ages to squirt out a given amount of fuel, but when the ion drive finally does so it has achieved much more with it than a chemical rocket could have done. All this makes the multi-asteroid flightplan achievable within the NASA budget.
Now that NASA has addressed some technical concerns, it appears that Dawn's Saturday launch is a go, and then it's just four years until it gets to Vesta. ®