TomTom is attempting to move up a gear in the in-car sat nav biz. It recently filed a patent for a GPS device that incorporates a camera to show the driver exactly where to turn off the road ahead.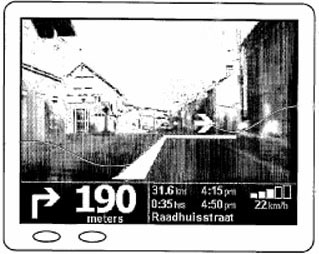 TomTom's real-view GPS concept
The European patent application describes a device that's based on the idea that instead of representing the streets around a driver as a map, the driver is shown a real picture of the street - complete with intersections, signs, traffic jams, etc - taken with a camera connected to the unit.
So all the confusion about exactly where your TomTom's GPS gadget wants you to turn could - in theory, at least - come to an end. Or a dead end, if you've still taken the wrong turning.
It could be a while before any working models of such a technology actually hit the road, but one worry is that if the driver is continually looking at the TomTom's realistic screen image, will they be giving enough attention to the road in front of them?
As a basic idea though, anything that helps us drive more easily from A to B gets a thumbs up from us. And it's a small step from TomTom's concept to projecting route directions onto the windscreen, HUD-fashion. More details when we get back from the patent office...