Boeing yesterday rolled out its "technologically advanced and environmentally progressive" 787 Dreamliner - heralded as "the world's first mostly composite commercial airplane".
Roughly 15,000 invitees made their way to Boeing's final assembly facility in Everett, Washington, to get a first look at the new "green" aircraft, designed to use "20 per cent less fuel per passenger than similarly sized airplanes, produce fewer carbon emissions, and...have quieter takeoffs and landings".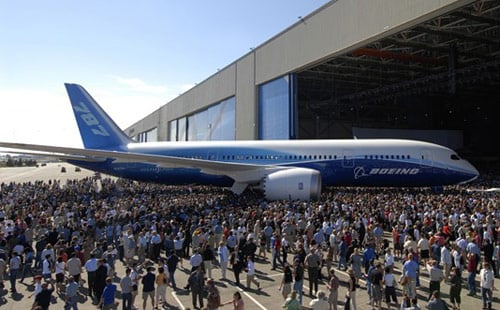 Scott Carson, Boeing Commercial Airplanes president and CEO, enthused: "This has been a wonderful and exciting day to celebrate this breakthrough airplane with our customers, employees, supplier partners and our communities. We are gratified that the 787 has been so strongly validated in the marketplace by our customers. Their response is proof that the Dreamliner will bring real value to our airline customers, passengers and the global air transportation system."
Mike Bair, Boeing Commercial Airplanes vice president/general manager of the 787 program, contributed to the love-in with: "Our journey began some six years ago when we knew we were on the cusp of delivering valuable technologies that would make an economic difference to our airline customers. In our business, that happens every 15 or so years, so we have to get it right. I am so proud of the men and women of Boeing and of our partner employees in the 70 companies that have brought this airplane to the passengers of the world."
The first flight of the 787 is expected late August or September, with six examples taking part in the subsequent test programme. Boeing hopes the Dreamliner will make its inaugural commercial trip with All Nippon Airlines in May 2008.
The Dreamliner's green credentials are based on various technological advances, Boeing claims. Its "unmatched fuel efficiency", ("20 per cent less fuel for comparable missions than today's similarly sized airplane"), is achieved partly by advances in engine technology, which contribute an eight per cent saving.
Composite materials - representing "as much as 50 percent of the primary structure" - and structural innovations also do their bit. For example, Boeing cites a "one-piece fuselage section" which eliminates "1,500 aluminum sheets and 40,000 - 50,000 fasteners".
The airline business seems to have warmed to the Dreamliner and its "hug-the-planet" specs. Boeing has 677 advance orders for the 787 from 47 airlines. This adds up to "more than $110bn at current list prices", prompting Boeing to declare the aircraft "the most successful commercial airplane launch in history". ®
Bootnote
For the planespotters among you, here's Boeing's rundown on the 787's capabilities:
The 787-8 Dreamliner will carry 210 - 250 passengers on routes of 7,650 to 8,200 nautical miles (14,200 to 15,200 kilometers), while the 787-9 Dreamliner will carry 250 - 290 passengers on routes of 8,000 to 8,500 nautical miles (14,800 to 15,750 kilometers). A third 787 family member, the 787-3 Dreamliner, will accommodate 290 - 330 passengers and be optimized for routes of 2,500 to 3,050 nautical miles (4,600 to 5,650 kilometers).