Windows Mobile smartphone seller i-mate has unveiled a five-strong collection of mobile devices, dubbed simply Ultimate.
The Ultimate collection comprises the 5150, 6150, 7150, 8150 and 9150. All are white-chocolate fascia handsets, offering design characteristics ranging from sliding models to flip-phone models.
All five handsets use the Windows Mobile 6 Professional platform and include quad-band GSM connectivity with Edge. Micro SD card slots, two-megapixel cameras and 802.11b/g Wi-Fi connectivity are also standard across the line-up.
Each also incorporates Marvell's PXA270 processor with a clock frequency of 520MHz.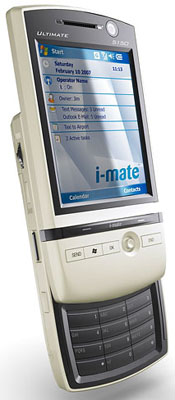 i-mate's Ultimate 5150...
The 5150 is a 11.7 x 6 x 1.9cm slider phone and has a 2.8in touchscreen display, with looks slightly akin to Nokia's N80 slider, only with a more tailored tail-end.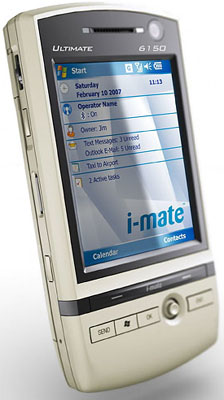 and the 6150...
i-mate's 6150 measures 11.8 x 6 x 1.5cm and has a well-proportioned 2.8in touchscreen display for navigation around the Windows Mobile OS.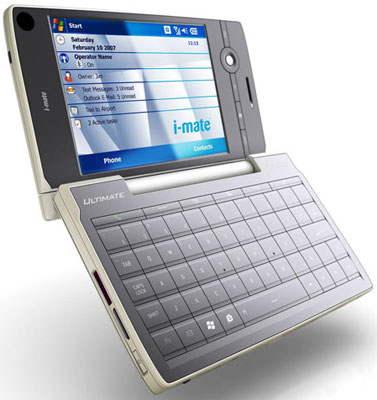 and the 7150...
The 7150 model opens like a book to reveal a compact keyboard and an inner portrait-layout screen reminiscent of Nokia's Communicator handset. It measures 11 x 7.4 x 1.8cm and has two display screens: a 3.8in touchscreen and a 2.2in OLED panel on the lid, with a full QWERTY keyboard beneath.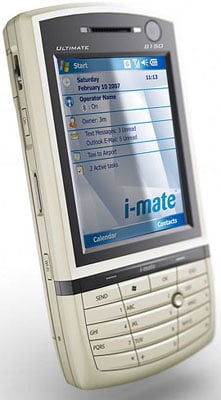 and the 8150...
The 8150 measures 9.4 x 5 x 1.1cm, with a 2.6in touchscreen. It, like the 5150, has a compact design, but has all is keys snugly tucked together at the bottom of its front fascia.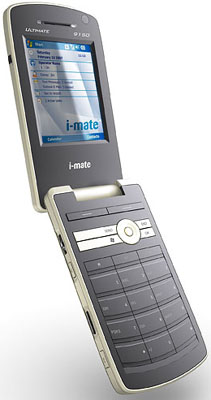 and the 9150
Taking some further style tips from Nokia, i-mate's 9150 looks are very similar to the Finnish handset vendor's 6170. It incorporates a 2.6in touchscreen as its primary display, as well as a 1.2in OLED secondary display.
Unfortunately, i-mate is yet to release any further details about pricing and availability.