Sony has left its US-based PlayStation 3 fans drooling after announcing that it will release an 80GB version of the console this August. But non-US gamers were left playing the waiting game as the company also announced that the majority of new PS3 games and a $100 (£50) price cut for its 60GB version will initially only be available in the US.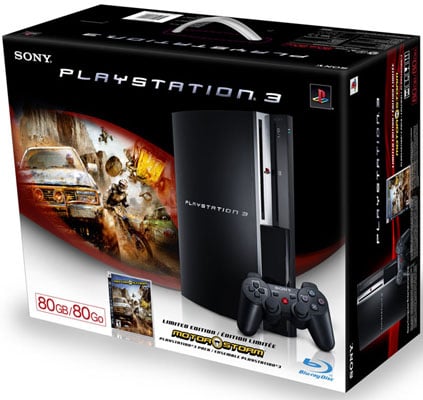 Sony's 80GB PS3: summer debut
The 80GB PS3 will be bundled with the online-enabled racing fame MotorStorm, with sales of the expanded storage capacity console targeted at "online gaming and entertainment enthusiasts" that typically require more capacity for their downloads.
Over 120 additional first- and third-party games will also be made available in the US over the coming months. These include SOCOM: US Navy Seals Confrontation, The Eye of Judgement, NBA '08 and Grand Theft Auto IV.
The only recompense for non-US gamers is that Sony will make some additional games and services available for global gamers to download through its PlayStation Network, including the forthcoming PAIN title.
Sony also announced that, effective immediately, its 60GB PS3 will retail for $100 less, or $500, bringing it closer in line with Microsoft's Xbox.
The 80GB Sony PS3 will be available in the US from August and will retail for around $600. No word has yet been given on how long the rest of the world will have to wait.
Release of an 80GB PS3 in the US follows Sony's release of an identical capacity PS3 across Korea in June, and its decision to can its 20GB PS3 model in the US back in April.