Turn off your telly, shut down your PC and dim down those lights, because if you don't, by 2020, 45 per cent of the UK's electricity will be gobbled up to feed the nation's love of gadgets, according to a report from British NGO the Energy Saving Trust (EST).
EST's delightfully titled report, The Ampere Strikes Back, warns consumers that by 2010, consumer electronics will be the single biggest... well... consumer of domestic electricity, overtaking fridges and lighting.
The report also warns that our love of laptops, LCD TVs, iPods, mobile phones and gadgetry in general will require the equivalent of 14 average-sized power stations just to keep them powered and charged, with the finger of blame primarily pointed at our love of standby mode.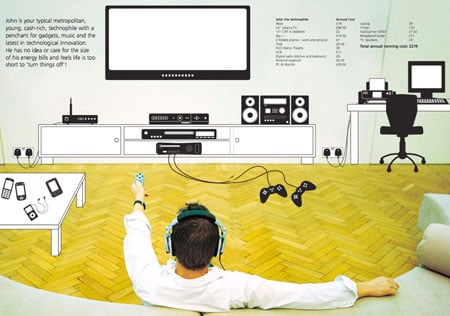 Way too many gadgets, dude, warns the Energy Saving Trust
With the UK currently living in an "ICE (Information Communication Entertainment) age" - groan - the report states that an average UK household is likely to contain between two and three TV and DVD players/recorders, three mobile phones, three cordless phones, up to two MP3 players and radios.
Divorced, widowed and unmarried singletons are largely to blame because they consume electricity differently from those shacked-up with partners. So romantic meals for two and sharing of iPod headphones makes for more efficent electricity use, it seems.
A rise in the sale of flat-screen TVs over CRTs is also, according to the EST, having an impact on electricity use. By 2020, the average UK household will have 2.6 flat-screen TVs, EST forecasts. The number of digital adaptors will also increase by 67m to 80m by 2020, increasing their total energy use by 400 per cent.
For example, the average technophile could clock up an annual electricity bill of £219 through use of "everyday" gadgets, including a 42in plasma TV, iPod, laptop and broadband router.
The EST's report does provide readers with some advice on how to change their gadget-hungry ways. Multi-function products, such as Apple's iPhone, which combines a phone with an MP3 player, internet and email, are one way to avoid the need for multiple devices to be run at the same time and all of which need charging up.
However, the EST warns that this will only be worthwhile if manufacturers invest in making such devices energy efficient when in use and being charged.
The Energy Saving Trust's report can be downloaded here (PDF)