While The Register is proud to be the premiere source of Google Maps foibles, contextual minge misuse and divine cumulus formations, we truly relish news of the utmost weight and consequence. It's our solemn vow to shed light on an industry renowned for meaningless fluff and slight-of-hand concocted to confuse and distract its customers.
Oh, we're not doing any of noble stuff right now, of course. Just wanted to keep your head up for later.
That said, sharp-eyed Reg reader Dave has pointed us to some delightful, meaningless fluff with which to confuse and distract you. Enjoy!
Amazon.com appears to be selling empty Windows Vista boxes. While admittedly Microsoft's package design team has put out a very sleek and sexy container for the OS, a retail price of $359.99 seems a tad steep — even with a discount and Super Saver Shipping. Tapered edges aren't that expensive.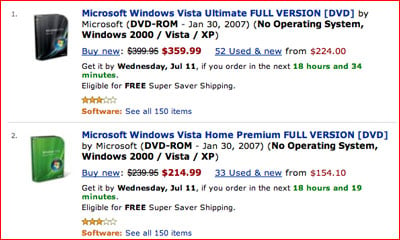 Or play the home game here.
Some may argue that the "No Operating System" subnote deserves a bit more prominence, but perhaps that's why those people are sorting through rubbish bins instead of heading the largest internet retail site.
And truth be told, a bunch of these babies stacked up would make one killer of a little fort. ®
Similar topics