In decades gone by, the humble mouse was nothing more than a roughly palm-shaped plastic complement to your computer. But now's become a statement of your eco-consciousness, courtesy of the bamboo mouse.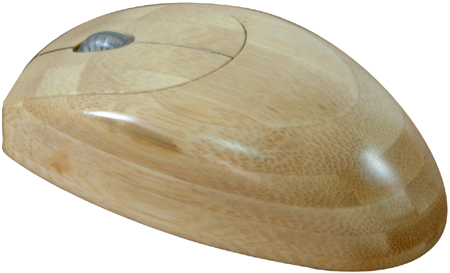 The Bamboo Mouse: wooden wonder?
The Bamboo Optical Mouse combines a completely Bamboo cover with an optical undercarriage that boasts lead-free components.
The mouse is likely to make the ideal complement to the Asus bamboo-clad EcoBook laptop, which features a bamboo lid and keyboard area.
Anyone that might be tempted to feel slightly guilty about chopping down the Panda's favourite nibble to make a statement on their desktop will be comforted to hear that, according to the mouse's maker, bamboo is one of the world's fastest growing, more easily replenishable plants.
It also helps reduce carbon dioxide gases too, so everyone's a winner. The tree, we mean, not the mouse.
The Bamboo Optical Mouse is available from eDirectory here, and others, priced at around £19 (€28/$38).
If a bamboo mouse doesn't take your fancy, why not expand you eco-tech range with a bamboo-clad 19in LCD TV, monitor or keyboard? All available from PlayEngine, here.