The Opera web browser is included and, as with its UIQ 3.0 predecessor, can display pages vertically or horizontally. Here's an example: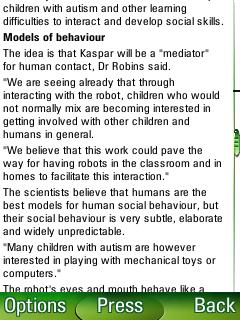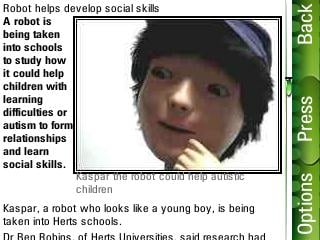 And here's the same page horizontally
We missed the single-key shortcuts that make Opera the most usable browser on mobile devices. Keystrokes such as '2' for the Bookmarks page, '5' to toggle between 'use cached' and 'get all new' images, and particularly the '3' that takes you right to the page's main content, were all absent.
While mobile video and 'user-generated content' are the two great white elephants of our age - giving us tools to control our own media goes largely untapped. It would have been great to see Orb and Sling supported out of the box, two services that in their own way, allow you to access your home media library on your mobile. Moto has left this choice to the operators. Instead, it's opted to bundle the Sky Anywhere player. This is a big deal indeed, giving subscribers the ability to program their set-top box on the go. Given the HDSPA fast download support this is not only feasible, but practical.
We tested the Z8 on three 3G networks: O2, T-Mobile and 3. Call quality was excellent, and improved as we implemented firmware upgrades. We comfortably got two days' use out of the phone, and were pleased that it chugged along on 'no bars', giving an alert sound loud enough to clear a building, for a considerable time.
The Z8 is a brisk performer. It acquits itself well indeed against rival high-end smartphones. So many recent Nokia S60 models can leave you waiting for ages - 30 seconds isn't atypical - wondering if the application has crashed or hung. There are no such problems with the Z8, which grew more dependable with time: the home screen and apps deck are never more than a couple of seconds away at the worst. Nor was the phone plagued by the memory scarcity that dogged recent Symbian 9.1-based smartphones. Only when the camera was used did the phone need to close down other applications. A movie stayed contentedly in the background for several days. And even after being closed, picked up where you left off.