The Z8 allows pluggable applets to be added to the standby screen: profiles, make a call, view calendar, music player. This is now a standard feature of Nokia's S60, but was pioneered on the Sendo X - itself designed by the same team that created the Z8; Motorola acquired the team two years ago. It's much easier to configure than on S60, however, and can be set from the left soft-menu key with a couple of clicks: there's no need to drill down several layers.
The phone has improved immeasurably over recent firmware updates - and unusually for a modern mobile, the manufacturer appears to care about the user experience and is keen to improve to it. Motorola incorporated feedback throughout the development cycle, with some important enhancements. Unlike Nokia, which very humbly solicits feedback through its bloggers, then very arrogantly throws their replies in the bin.
But there's still some room for polish.
We found there's a delay that's just a fraction of a second too long when the slider is opened: it should be instant. The icons need some work, too: they're infuriatingly indistinct, and too many look alike. We were obliged to view the applications deck and control panel in List view. Here's an example: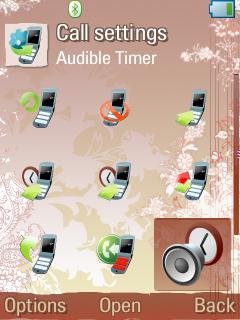 Motorola's bundled "Guess the icon?" game.
The Z8 isn't a flip phone, Moto...
The task switcher, invoked by holding down the Home key, bobs disconcertingly usually once, but sometimes twice.
That said, it's evident that the Motorola team has worked hard to remove UIQ annoyances where it could. For example, the default UIQ address book is notorious for making look-ups difficult. You can either search by first name or last name, and to change between them you need to change the display order: a quite asinine decision. The Z8, however, finds contacts regardless of whether the search string is a first name or surname.
In other areas, alas, Motorola had to deal with the new, verbose UIQ. This really needs a brutal redesign: too many functions take too many clicks to accomplish. Some user interface controls require manual confirmation - you have to explicitly confirm the change using the left soft-menu key. Others don't, you simply go back to the previous screen knowing the change has been made. It's inconsistent and infuriating.
For text input, this phone uses Motorola's preferred iTAP - which takes a couple of days to get used to if T9 is embedded into your motor movements. It's actually a bit faster once you're familiar with it - recognising phrases as well as words - although it demands a little more concentration.
As for compatibility, UIQ 3.0 themes work without any trouble. Some applications may need to be tweaked to take into account the subtly different input. We tried the Salling Clicker 3.0 client designed for the W950 phone, and discovered it installed and ran. High-profile Java apps such as Google Maps and Yahoo! Go 2.0, naturally work very well.
Verdict
From its styling, the Z8 appears to have been designed to appeal to blokes who talk very loudly in the gym. This, with the BSkyB bundle, is probably very astute marketing. The real bellweather technology adopters aren't phone nerds but the guy in Brentwood with a decent disposable income. The BSkyB remote control is a very handy feature if you're a subscriber, in which case everything else is gravy.
For the rest of us, the Z8 shows great promise - we particularly liked the balance and comfort. We look forward to seeing the user interface annoyances ironed out, and seeing the Z8 appear in different colour schemes and with more of a music focus. It has the potential to give Sony Ericsson a run for its money, and at once provides a complacent Nokia with some long overdue competition at the top end of the handset market.

Motorola Z8 'kick slider' media phone
A very capable media phone, with some rough edges...