A tie-up between Casio and YouTube wouldn't have been our first guess for an expansion attempt by either of the two companies, but when you think about it, it sort of makes sense. And, hey, Google needs to recoup some of its $1.65bn.
The agreement has come in the form of two new Casio digital cameras, the EX-S880 and EX-Z77, which incorporate a branded YouTube Best Shot mode. This allows web-savvy happy-snappers to shoot and save movies on either camera at the optimum size and quality for transfer to YouTube.
The EX-S880 is an 8.1-megapixel camera that sits within Casio's Exilim Card series, while the 7.2-megapixel EX-Z77 will nestle within its Exilim Zoom line-up. Both used the H.264 video standard and include specialist software to upload videos to YouTube in two steps, as well as motion analysis technology that should help to reduce blurring.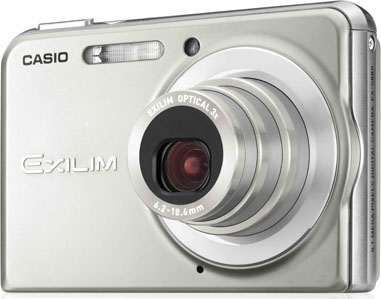 Casio's EX-S880
Both a nearly identical in their dimensions as well, with the EX-S880 measuring 9.4 x 6 x 1.7cm deep, while the EX-Z77 measures 9.5 x by 5.9 x 1.9cm deep.
Each camara has a 3x optical and 4x digital zoom. The EX-Z77 has a 2.6in widescreen display, while the EX-S880 has the slightly larger 2.8in display and a maximum brightness, from its centre, of 1000cdp² - pretty bright for a camera display, surpassing even many LCD TVs on the market.
The EX-Z77 gives users a maximum five shots per second, while the EX-S880 is limited to four. Each has the by now standard image stabilisation and red-eye reduction functions built in. The maximum ISO for both models is 1600, when the high sensitivity image option is selected.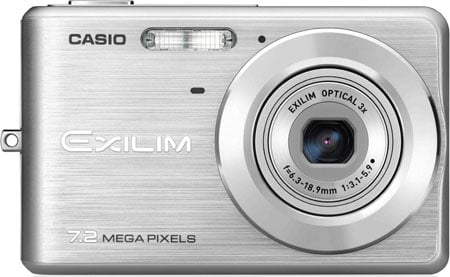 Casio's EX-Z77
Casio has given the biggest choice of body colour options to purchasers of the EX-Z77, with silver, black, pink, red and blue available. EX-S800 fans will have to settle for silver, black or red.
The EX-Z700 will be available in August for around £150 (€221/$304), while the EX-S880's release date is yet to be confirmed, but is expected to cost around £250 (€369/$507).