Laois residents are the top eBay users in Ireland, beating out neighbours Carlow to take first place, new statistics have revealed.
According to the auction site's Irish figures, Laois topped the list of counties when it came to buying from eBay, coming first as both the most buyers per capita out of the 26 counties, and the All Ireland eBay Champion of 2007. The county was closely followed by Carlow and Wicklow to finish off the top three.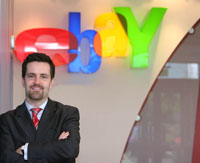 John McElligott, MD, eBay Ireland
eBay's All Ireland rankings were devised to learn about post Celtic Tiger shopping habits, and to give the firm a snapshot of who's selling what on the auction site.
"Laois has a strong record of buying and selling on eBay.ie, however they surprised even us when they emerged as the winners of the eBay.ie All Ireland," said John McElligott, managing director of eBay.ie
Each county had their strengths; Laois citizens, for example, top the poll for spending on cars and trucks, and business, office and industrial goods. The county even outdid Dublin in this regard, buying five times more office equipment than the capital despite its considerably smaller population.
Carlow, on the other hand, excels in the home and collectables categories, while Wicklow eBayers are a touch more creative, preferring to spend on art and photography.
Galway is a county of sports fanatics, selling the most sporting goods of all the counties. Cork eBayers, on the other hand, are clearly a talkative bunch, selling more mobile phones and accessories per capita than any other county.
The capital city, meanwhile, comes into its own in the consumer electronics stakes, topping the list of sellers per capita. Dublin natives are also responsible for buying the second highest amount of clothing and accessories per capita.
Monaghan trailed the pack in both buying and selling categories, a position the auction site has said comes down to problems with broadband access in rural areas.
© 2007 ENN