Beeb reveals Kylie as Titanic waitress
First still from Who Xmas special
---
The BBC has released the first still from Doctor Who Xmas special Voyage of the Damned, showing Oz popstress Kylie Minogue as a waitress on the Titanic.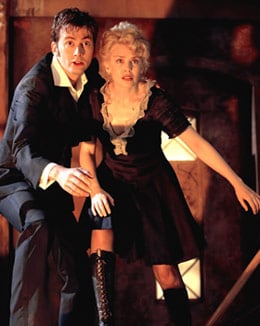 Filming on the yule extravangaza - described by Russell T Davies as "ambitious" - kicked off in Cardiff this week. Minogue stars as Astrid aboard the ill-fated liner, in a story which follows on directly from the end of series three.
As is the local custom, Minogue enthused: "It is an incredible thrill to be joining David and the entire Dr Who production for this year's Christmas special. Doctor Who enjoys a unique history and it is going to be very exciting to be a part of that."
She's joined by an able crew of familiar faces, including Britain's "best loved sitcom actors", Geoffrey Palmer and Clive Swift, the former playing Titanic's captain. The BBC's thespo love-in adds: "Voyage of the Damned will also feature Gray O'Brien who recently appeared in the Oscar winning film The Queen, Debbie Chazen; star of the BBC comedy series The Smoking Room, Olivier Award winner Clive Rowe, Russell Tovey from the smash hit film The History Boys, Jimmy Vee who has previously been in Doctor Who as the Moxx of Balhoon, and George Costigan who starred in The Long Firm* and the acclaimed film Rita Sue and Bob Too."
Sadly for fans, there's no mention of the convincing Sophia Myles, who played Madame de Pompadour in The Girl in the Fireplace. Many wanted to see Myles take up permanent residence alongside the good Doctor for series four, and are still recovering from the shock news that Catherine Tate will reprise her Runaway Bride role as the Time Lord's companion while Martha Jones is seconded to Torchwood. ®
Bootnote
*Quite what The Long Firm has done to miss out in this orgy of superlatives is anyone's guess. Sadly, it's apparently neither Oscar winning, best loved, acclaimed, or a smash hit. Oh well...