With a look that's a little reminiscent of the Austrian Steyr Aug 9mm assault rifle, Nintendo's Wii Zapper is set to help gamers dive into the melee, lock 'n' load, lay down suppressing fire and, it's hoped... survive.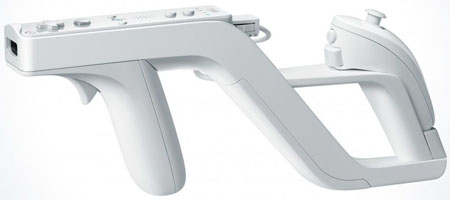 Nintendo's Wii Zapper: I'd like to introduce you to a personal friend of mine...
Mind you, it's taken Nintendo long enough. The two-handed peripheral that houses both the Remote and Nunchuck, handy for the likes of Medal of Honor,, which is ridiculously hard to play with the two controllers held separately.
Fancy something less ballistic? Nintendo also announced Wii Fit last night, an obvious extension of the popular Wii Sports but this time based around a sort of balance board that gives players a workout through aerobic, toning and balance games. The Wii's main menu also allows all users in a house to review one another's progress.
Mario will also be making a comeback in two games. A version of Mario Kart, which works with another accessory, the Wii Wheel, allows gamers to... er... drive around wacky tracks in, presumably, even wackier car designs.
Super Mario Galaxy, on the other hand, sees Mario go in search of the lovely Princess Peach, who has been kidnapped, across a series of strange planets. Mario is in a low-gravity environment and so gamers have to make full use of the Wii Remote's functions to make him hop, skip and jump.
Nintendo has also begun development of a new free online Wii channel, which provides a space where gamers can post copies of the Mii characters for others to, more than likely, slag off. Gamers will also be able to go head-to-head and test their artistic abilities at creating a Mii with the most likeness to themselves.
Metroid Prime 3: Corruption has been created as a first-person game and the final chapter in the trilogy. It sees Samus fight with Dark Samus through a series of different planets, using the Wii's remote as a sort of firing cannon. Another one for the Zapper, then.
No release date for the Wii Zapper has been given, while Wii Fit, Mario Kart, Super Mario Galaxy and Metroid Prime 3: Corruption will be released in the first half of 2008, early 2008, 12 November 2007 and 27 August 2007, respectively.