Review Storage for digital documents has never been cheaper, but what's the best way to make it available to all the computers in your home or office? You've got a network - why not use that? Enter the network-connected storage box...and to tempt you to spend your hard-earned this week is Netgear's Storage Central Turbo SC101T.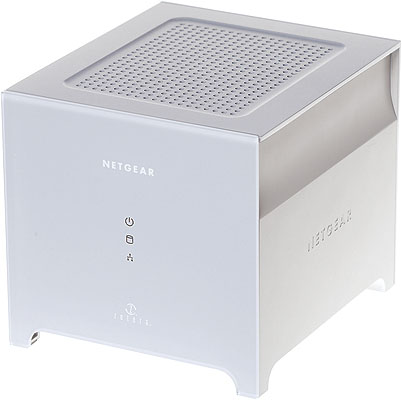 The SC101T comes in a consumer-friendly square shiny white and grey casing that's more reminiscent of Apple's ill-fated Power Mac G4 Cube than the toaster-like look of its predecessor, the SC101. The metal base and plastic top are drilled with plenty of holes to ensure a good, fan-assisted flow of air through the case, while the top quarter of each side is indented to make carrying it easier.
The back is home to a single Gigabit Ethernet port, the connector for the power supply, a recessed reset trigger and an on/off button. Above them are two latches that pull back to push out either of the unit's two hard drives. Or, rather, your own hard drives you yourself will install.
To keep the up-front cost down, Netgear offers the SC101T without drives, which means you can choose whatever brand and capacity you prefer, but it also means that the device doesn't work out of the box. The drives slot into two bays exposed by pushing and removing the SC101T's front panel.
The Netgear box takes any SATA-connected 3.5in internal hard drive, of any capacity, and you can install one or two, depending on your needs or your budget. The drives slot in smoothly, popping out just as easily when you pull on the rear latches.
Drive(s) and network cable in place (supplied) you're ready to install the Windows-only software that will let you manage and access the SC101T.
First, a word on terminology. The SC101T is a SAN box. That's Storage Area Network, and it's the sort of configuration you usually find in complex corporate computing environments. In effect, it's a collection of storage devices all of which appear to the user as if they were directly connected to his or her computer just like a standard external drive. SAN kit can talk unto SAN kit, which makes it easy, say, for a hard drive-based archive to work with a tape back-up drive without having to negotiate the transaction through a server.
That's good news for big businesses with a whole heap of storage systems, but of little value to homes and small offices. Instead, in such locations you usually find NAS (Network Attached Storage) boxes. While still connected to the network, they aren't accessed directly, but are reached as if they were a server somewhere out on the net.
Similar topics