Cut-rate internet host UK2.net has become the subject of a hacking attack, leaving customers temporarily unable to access their email.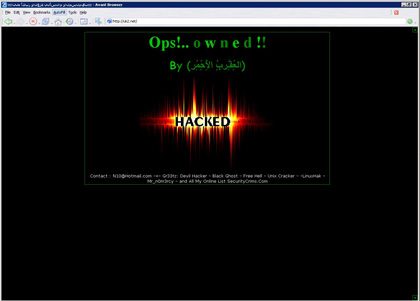 UK2.net customers were greeted by this screen instead of their email.
Customers turning up to the site this morning were confronted by a defaced page, apparently posted by an Islamist hacker. Several reported to us that they were unable to access their email. The experiences of Register reader Andy are typical:
UK2 has (for me) been uncontactable since 06:00 this morning as my POP3 email was not functioning. I tried again at 12:00 noon both via POP3 and webmail were down offering only a defaced screen.

This follows weeks of email problems I have had with UK2 sometime earlier. My email was unstable for about three weeks during late May, early June. Sometimes it worked, most of the time it didn't.
In a service update available as a recorded message on UK2.net's telephone support line, the firm said it had been the victim of a hacking attack in the early hours of Thursday morning. The attack prevented customers accessing UK2.net's site or their email. UK2.net said the issue has now been dealt with by its technicians. Despite this, some users might still be unable to access services until DNS caching changes are distributed, it added. ®