Water-ice on Mars swaps poles over a cycle that spans 51,000 years or so, in step with the way the planet precesses, or wobbles around on its axis.
Researchers investigating the different types of ice at the Martian poles plugged new data from the Mars Express mission into a model of the planet's climate. Then, adding in details of the planet's slow precession, they ran the clock back 21,500 years to a time when the northern summer was closest to the sun, the exact opposite of the situation today.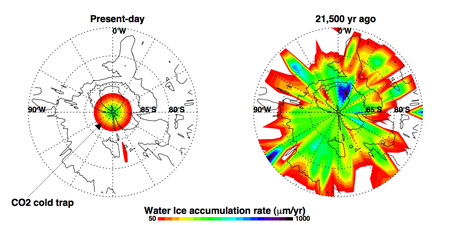 Martian water now, and 21,500 years ago.
As time passed, the model showed water accumulation rates shifting across the globe. Water at the north pole became unstable and vaporised easily, moving to the southern hemisphere where it recondensed and froze on the surface. Here, over the course of 10,000 years, it formed an ice cap up to six metres thick.
Run the clock forward towards today, and the opposite starts to happen: the ice at the south vaporises and shifts on the winds to the north. The process was interrupted about 1,000 years ago, the researchers say, when for some reason a layer of carbon dioxide ice formed a protective layer over the ice, preventing further erosion.
The model helps explain newly discovered deposits of ice at the southern pole, spotted by the OMEGA instrument early on in the Mars Express mission.
The European Space Agency says the "perennial deposits of water-ice" have built up on top of million-year old layered terrain, and argues that their presence is strong evidence for recent glacial activity. ®
Sponsored: Ransomware has gone nuclear