Bang and Olufsen (B&O) has expanded its BeoSound portable music player range with model number 6, a stylish silver-clad player with simplistic operation and, more than likely, a designer price tag.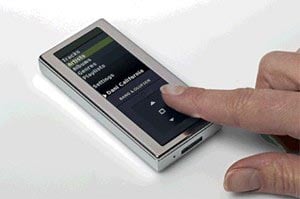 B&O's BeoSound 6: is a manicure essential?
No word has yet been given on what the BeoSound 6's tech specs will be, but some online reports have rumoured that they could be based on the Samsung YP-Z5. If true, this could see the BeoSound 6 equipped with a 4GB Flash memory, support for MP3 and WMA files and around a 24-hour battery life.
B&O has already worked with the Korean electronics giant once before, jointly developing the designer Serene mobile phone.
But B&O products are more well known for their cutting-edge looks and superior sound than anything else, and based on already released pictures, the BeoSound 6's looks alone will be nothing to disappoint, if a little rectangular.
It builds on the BeoSound 2, a silver bug design without a screen, and will measure about 3.5cm long by 1.7cm wide by 0.5cm deep. Its menu system looks very similar to that of the iPod's, while selection is done via simplistic up and down buttons below the screen.
A USB port will more than likely be included at the base of the player, making it even more similar to an iPod Nano. A leather case and pair of B&O's A8 earphones will also be thrown in.
B&O's BeoSound 6 is due to be released sometime throughout the summer months and will retail for around £400 (€590/$813).