This article is more than 1 year old
Intel Core 2 Extreme QX6850 & MSI P35 Diamond mobo
Intel's fastest desktop quad-core
Review Intel is getting ready to move to a new generation of processors on a 45nm fabrication process, but that hasn't stopped it from squeezing some more performance out of its existing, 65nm chips. So, ladies and gentlemen, please welcome the 3GHz Core 2 Extreme QX6850 with the chip giant's brand new 1333MHz frontside bus.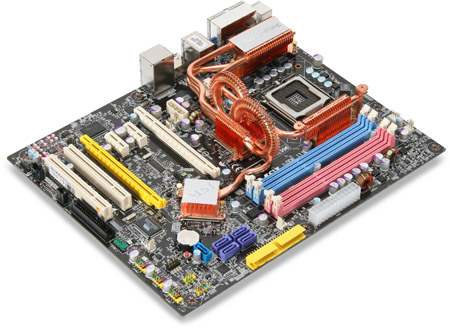 MSI's P35 Diamond: ready for 1333
We tested the up-clocked processor on an MSI P35 Diamond motherboard - one of the first mobos to support the 1333MHz FSB - with Kingston DDR 3 memory and the results are... promising. Not earth shattering. Certainly not 'a new dawn in desktop computing', but promising.
We were disappointed by the first Intel P35-based motherboards that we saw. Intel's P965 had turned out to be a very good chipset that suffered from two related PCI Express problems, while the P35 added two new features without addressing either of these issues.
The new features add DDR 3 support to the memory controller alongside the existing support for DDR 2, while the CPU FSB support is extended to 1333MHz, though 1066MHz and 800MHz are also supported.
As for the PCI Express problem, the P965 only has 20 PCIe lanes, so even though many motherboards have dual graphics slots, you only get 16 lanes to one slot and four lanes to the other. The elderly 975X chipset does rather better, as it feeds eight lanes to each slot when you run dual graphics cards.