Intel's 45nm 'Penryn' processor architecture gets ever closer, and as we near the release of the first CPUs based upon it, chip-by-chip details are beginning to leak out. The latest: Intel's plans for mobile processors.
Four laptop-oriented Core 2 Duos are coming in Q1 2008, all operating on an 800MHz frontside bus and delivering 2.1GHz, 2.4GHz, 2.5GHz and 2.6GHz clock speeds, according to company roadmaps seen by DailyTech. The four chips' model numbers are not yet known, but we can say the top two parts incorporate 6MB of L2 cache, while the others have just 3MB.
The report also mentions a new, 2.8GHz Core 2 Extreme mobile, again with 6MB of L2 and running on an 800MHz FSB. This chip's model number isn't known either, but it clearly follows on from this week's launch of the 65nm Core 2 Extreme X7800.
However, past roadmaps have revealed a 65nm X7900, almost certainly set to clock at 2.8GHz, in Q4 this year. With the X7900 containing 4MB of L2, the Penryn version's extra 2MB of cache will give it an appropriately higher model number.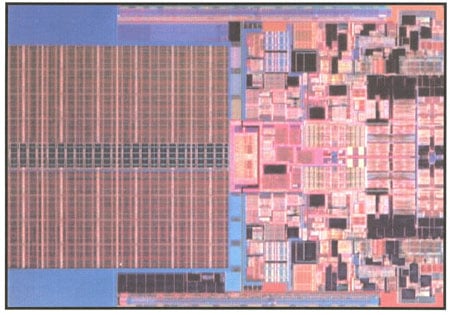 Intel's 45nm 'Penryn'
Intel has already said 45nm CPUs will be incorporated into its next major Centrino release, codenamed 'Montevina' and officially due H1 2008, but almost certainly actually arriving in the second quarter. Montevina, the successor to May's 'Santa Rosa' release, also features the 'Cantiga' chipset, with an updated LAN chip, 'Boaz', and 'Echo Peak' and 'Shiloh' providing wireless connectivity. Shiloh is an update to Intel's already available 802.11n Wi-Fi module - the Wireless Wi-Fi Link 4965AGN - but Echo Park brings WiMAX to the table, integrating it on the same Mini PCI card as the Wi-Fi radio.
Intel will also offer 'Dana Point', a WiMAX-only card. Its Turbo Memory technology - aka 'Robson' - will also be tweaked for Montevina.
The chip giant will also pitch Penryn at small form-factor PCs through a line of low-voltage (LV) and ultra-low voltage (ULV) versions.