This article is more than 1 year old
Burned by a MacBook
In more ways than one
First Person Can you run a business using a MacBook? No, is my answer. My experience with a new MacBook, which turned out to be a complete and utter lemon, and my battle with Apple's derisory customer service nearly sent me bananas, lost me thousands of pounds worth of freelance journalism and consultancy work, and left me with a burn mark on my arm. This camel's back was truly broken.
The problems began in March when I was trying to burn my accounts onto a disc. The MacBook refused to burn despite trying various types of CD. I tried DVD movies to see if they worked and even the system discs but it spat them out. Then I noticed they were all scratched. I took it into the Bluewater Apple store the next day on 16 March and they told me it wouldn't take long to get things sorted. A week later I still hadn't heard anything. The Genius bar told me it hadn't even been looked at and could be another two weeks.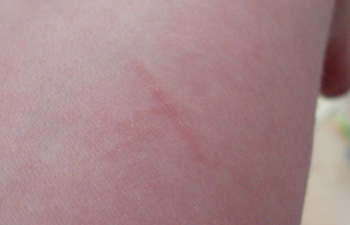 The burn caused by the MagSafe power cord
Two more weeks? They told me they needed more staff and I should complain to Apple so they got more people. I said I didn't have time to act as their personnel manager and asked to speak to the store manager. I eventually spoke to a sensible man who promised to sort it out. At 2pm I got a call saying it is fixed and ready to pick it up. I collected the machine with a new DVD burner (and a replaced shell casing as it had turned yellow) on 23 March, nine days after it went out.
I was surfing on 17 April when the laptop froze. On reboot, an ominous folder icon showed a flashing question mark. I called a friend who revealed this was "very bad news". I let out a primal scream. The next day I was back at Bluewater. They said the hard drive was dead and replaced it with a new one. It took just an hour as they had one in stock. I was so grateful I could almost have offered sexual favours.
On 25 April the laptop began to flicker on start up. I couldn't bear to send the laptop for repair again, just six days after getting it back with a new hard drive. I had a major project to complete, so I ignored the strobing screen and just blinked faster so it appeared normal.
The next month I was writing and felt a sharp pain on the inside of my forearm. I looked at the laptop and smoke was coming from the MagSafe power cord where it was inserted into the laptop. I screamed. The cord crackled and started to melt. My husband yanked the cord out of the wall. My arm had a red burn mark on it and the lead had melted. I felt relief that I was not a male cybersex maniac, as it could have been more than my arm that was burnt.
The next day, 21 May, I called Apple. I stressed that I often leave my laptop charging overnight under the sofa on the carpet. I told them it doesn't take a genius to work out the risk and added that I have two children under four in the house. I was offered a new MagSafe power cord, new system discs (to replace the scratched ones from ages ago), and a £54 voucher off a £180 purchase. I struggled to stay calm and said they were useless compensation as I had been burned and lost 11 days work so far, not to mention the endless phone calls to Apple, the driving to Bluewater, and the stress. I mentioned the flickering screen and said it was still not working. He said compensation couldn't be discussed until the laptop was sent off for repair to fix the flickering screen. I started to make plans to be without a laptop and cancel some work.